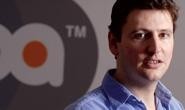 Zopa (www.zopa.com) is a marketplace for Social Lending. People lend and borrow money with each other, sidestepping the banks. Recently Zopa Japan was formed and will shortly launch with a localized version of its services.
Web2Asia had the opportunity to ask Giles Andrews five questions about their international expansion plans.
1. Dear Giles, could you briefly introduce yourself and your company?
My name is Giles Andrews, I am CFO, co-founder and UK MD of Zopa, the world's first online lending and borrowing marketplace. We launched in the UK in March 2005 and now have operations that have launched in Italy and the US and plans to launch in Japan.
2. Why did you opt for Japan after tapping Italy and the US and not for other European markets?
We have experienced tremendous interest in our concept of social P2P lending since we launched our operations and have been approached by people from all over the world that wanted to collaborate with us. After assessing a proposal from Japan we found this market very attractive and believe that Japan is a particularly interesting opportunity for Zopa as the concept of collaboration and working together is deep-seated in the Japanese culture. However, we are still looking at other European markets as well and hope, optimistically speaking, to enter another three markets in 2008.
3. What are the major issues you had to address entering the Japanese market and to what extent does the Japanese concept and website differ from the other ones?
The operations in Japan will draw from Zopa's experience across the globe and introduce a social lending platform that is tailored for the Japanese culture and regulatory environment. The regulatory environment is different in every country, requiring changes to each proposition. Consumer attitudes and culture are also different. The changes for Japan are still a work in progress, but will reflect local culture, consumer attitudes and regulation. The design and layout of the website itself won't be changed as it proofed to be well accepted.
4. Zopa Italy operates under a license obtained from Zopa UK, and in the United States Zopa teamed up with six credit unions. How did you enter the Japanese market?
Zopa Japan is majority owned by Zopa, with the management - Chairman Takashi Yoneda and Managing Director Tatsuya Kuboi - also being shareholders. Concerning the mode of entry, as you can see in the case of Italy, we are pretty flexible and assess every market and proposal on an individual base. Of course we would opt for majority stakes in countries we think have great potential. Joint Ventures are very common and well accepted in Japan as people are, as I have mentioned before, used to collaborate and work together.
5. Which other markets do you plan to enter in the near future? How do you assess the Chinese market and its potential?
We are looking at European markets and also markets in Asia. China is obviously interesting on account of its scale, but there are question marks around its credit infrastructure and credit data availability – we will watch the performance and development of P2P lenders in China like PPDai or Qifang with great interest.
About Giles Andrews
Giles Andrews spent 10 years in the motor industry, co-founding Godfrey Davis Motor Group. He then set up his own consultancy practice where clients included Tesco and Tesco Personal Finance.