Web2Asia and its parent company MH | direkt is co-organizing the Shanghai IT Day 2008 and is teaming up with avenit Software AG to deliver an interactive presentation on "Successful E-Commerce in China". The event will not only offer presentations, but also exciting live shows and workshops giving the attendants the opportunity to participate in a more interactive manner.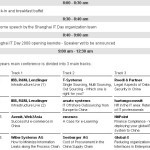 Similar to the initial 2007 event, topics will be focused on the need to adjust the IT policy to local requirements without scarifying IT standards. Take a look at the agenda above for a more detailed outline of the event.
The Shanghai IT Day will take place on Wednesday, April 23rd, 2008 at the Sofitel Hyland Shanghai 505 Nanjing East Rd. See you there!
Update: please find our presentation below.