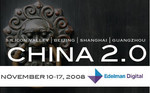 After months of planning and working behind the scenes, we'd like to announce the Inaugural China 2.0 Tech Tour taking place in November.
The China Business Network, Web2Asia and CNReviews.com have partnered to organize the first ever international blogger/tech influencer tour of China's tech sector taking place November 10-17. The lead sponsor is Edelman Digital China.
Thanks to web 2.0, it's now possible to influence many through the first hand insight of just a few. Since each blogger represents tens to hundreds of thousands of readers each, our theory is getting them together for one week to blog, tweet and video blog their experience in China will generate greater interest and understanding of the tech sector there through their first hand insight.
We're using the tour to demonstrate the effectiveness of direct cross border connections between tech influencers to help bridge the current gap.
It includes a multi-city tour of Beijing, Shanghai and Guangzhou in which invited bloggers and VIP attendees will have the opportunity to personally meet Web 2.0 and Clean Tech counterparts, visit HQ and meet key startup investors, CEOs and experts in China's tech community.
Confirmed international bloggers so far include:
Shel Israel - author and social media influencer
Robert Scoble - Fast Company.TV
Sam Lawrence - enterprise 2.0 influencer
We will be announcing more featured bloggers in the coming weeks...
If your company is interested in supporting this tour and getting involved or if you yourself are interested in joining us, please email us. Thanks!
Please visit the link below for more information: