Arrived in Shanghai 7am with an estimated 0.25 hours of sleep. Decided to skip overnight train as "the real China feeling" sensation for future tours. On top of things Shel Israels passport got lost in Beijing and the Park Hotel on Shanghais People's Square did not have the rooms ready for early check-in. Unfortunately we had to cancel our first meeting with gaming company The9 under these circumstances.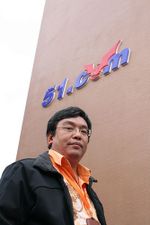 Our mood lightened up quickly under the cristal blue sky (!) of Shanghai and with exceptionally sunny & warm weather.
After finally being able to check in the Shanghai China 2.0 bus drove us out to Pudong for a lunch meeting with Andy Yao, VP of chinese online social network 51.com.
You can review the entire session below and find a post from Ernst-Jan Pfauth here.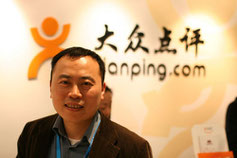 Our next tour stop was the Dianping office (which is in the same building as our office). Dianping is Chinas leading dining recommendation website. In some ways it is similar to US-based Yelp but with an extra offline notch to it. Check out Eric Eldons post on Venturebeat from earlier this year here.
Dianpings founder Zhang Tao gave an energetic presentation with great insights into the spirit of returnee Chinese entrepreneurs. The meeting was streamed live and can be reviewed below.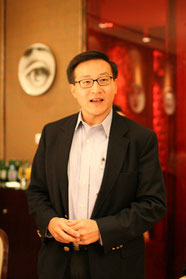 The tour participants only got a few hours of rest before we walked from the Park Hotel through the crowded Nanjing Dong Lu to an exclusive VIP dinner sponsored by Alibaba at the South Beauty Shanghai restaurant close to People's Square.
We would like to thank John Spelich, VP International Corporate Affairs, Joe C. Tsai, CFO of Alibaba Group and Christina Splinder, Director, International Corporate Communications very much for sponsoring this event and giving our tour participants first hand information on the chinese & international eCommerce market.

Additionally to the China 2.0 Tour local bloggers, entrepreneurs and analyists such as Ryan from CNET Asia, Gang Lu, Adam Schokora from our lead sponsor Edelman Digital, or Kenneth from Shanghaiist joined us. As a special guest we also had the honour of welcoming German business angel Lukasz Gadowski to our dinner, who happened to be in town.
Enough to call it a day? Not for the China 2.0 crew! Up next was the Shanghai China 2.0 Cocktail reception at the M1NT club. The event had a great turn out and we were happy to welcome the who-is-who of Shanghai's Internet scene at this exclusive pre-opening event.
We were amazed to see may of the China 2.0 folks partying on at local bars & clubs until late. What a day!
Theres also are great review of the first Shanghai day to be found here from CNET Asia's Ryan McLaughlin.