Tencent Holdings Limited a leading provider of Internet and mobile & telecommunications value-added services in China who is best known for their instant messanger product QQ, today announced the unaudited consolidated results for the fourth quarter of 2008 and audited consolidated results for the year ended December 31, 2008.
Here is an overview of the most striking results:
Total revenues were RMB7,154.5 million (USD 1,046.8 million), an YoY increase of 87.2%
Revenues from Internet value-added services (IVAS) were RMB4,915.0 million (USD 719.1 million), an increase of 95.5% YoY
Revenues from Mobile & telecommunications value-added services (MVAS) were RMB1,399.0 million (USD 204.7 million), an increase of 73.2% YoY
Revenues from Online advertising were RMB 826.0 million (USD120.9 million), an increase of 67.5% YoY
Gross profit was RMB4,984.1 million (USD 729.2 million), an increase of 84.4% YoY.
Key platform statistics for Q4 2008:
Total registered Instant Messaging ("IM") user accounts increased to 891.9 million, representing a 4.2% growth QoQ
Active IM user accounts increased 6.1% QoQ to 376.6 million
Peak simultaneous online user accounts for IM services recorded 49.7 million, a growth of 9.7% QoQ
Peak simultaneous online user accounts of QQ Game portal (for mini casual games only) was 4.7 million, representing a 6.2% growth QoQ
IVAS paying subscriptions were 31.4 million, an increase of 3.6% QoQ
MVAS paying subscriptions were 14.7 million, a decrease of 0.7% QoQ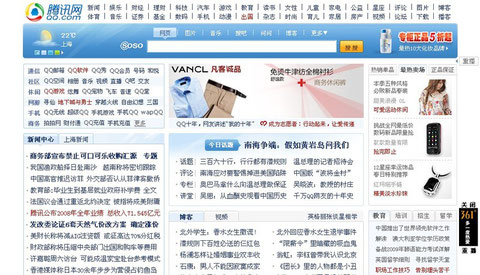 Looking into the first quarter of 2009, the Company expects to see a more favorable seasonality for its IVAS business, especially for online games, as a result of winter break for students and the Chinese New Year holidays. On the other hand, its online advertising business would face severe pressure as more and more advertisers scale down or delay their spending under a worsening economic environment. In addition, the first quarter is generally a seasonally weak quarter as advertising activities slow around Chinese New Year holidays.
For non-game IVAS, the Company is seeking opportunities to extend QQ Membership offline to include privileges for lifestyle products. While the Company will continue to enhance the service features and user experience of Qzone, it is addressing the social networking needs of university students with the official launch of Xiaoyou, a real-name SNS service, in January 2009. For online gaming, the Company will continue to leverage its core strengths to launch attractive games through a combination of self-development, licensing and investments, despite lower margins of licensed games. The Company's preliminary pipeline includes three MMOGs and one advanced casual game scheduled for 2009 as well as up to six MMOGs planned for the first half of 2010.
The Company's wireless business registered strong growth in 2008 as the operating environment became more favorable. Going forward, while the launch of 3G networks and more affordable data packages offered by telecom operators will stimulate the growth of wireless data services, the Company remains cautious on the regulatory environment as the telecom sector is in the midst of transition. The Company will seek to create more value for its users and maintains a close relationship with telecom operators in order to position it for longer term growth.
As the Company has just started to experience the rippling effect of the global recession on China, it believes that the negative impact on its advertising business will be substantial in 2009 and it is very difficult to predict the timing of recovery. The Company will be very vigilant in serving its clients, especially in more resilient advertising segments, including food and beverages, apparels and online games. In addition, the Company will continue to cautiously make investments in its sales organization, technology platform, content, branding and relationship with advertisers to position it well when growth returns to the market.
You can find the full press release from Tencent here.
We had just recently reported that Tencents online social network QZone claimed to be the largest SNS in the world with over 200 Million users.