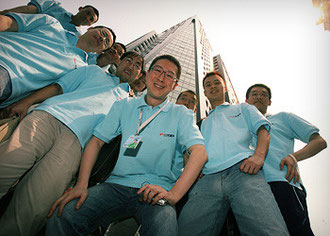 Kaiser Kuo over at Youku Buzz recently shared some interesting stats from an "average day" at Chinese video hoster Youku.
On Saturday the 4th of April Youku had 146,803,100 video views which was up by 4.15% from the previous Saturday.

Total view time amounted to 1,253,850,000 minutes — no, you're not reading that wrong, that's really 1.25 billion minutes. Which is almost 21 million hours, or 870 thousand days, or 2,385 years.

Each video view lasted an average of 8.54 minutes, which is down by 2.45% from the same day last week.

Average time spent per unique user on site that day was a second or two shy of 50 minutes.
This past Saturday Youku had 25,091,500 unique visitors. That means, if you believe that there are about 300 million Internet users in China, that over 8% of all the nation's Internet users visited Youku that day.

Those visitors generated just over 200 million page views, up 4.31% from the week before.

Each unique visitor generated about 7.98 page views, and about 5.85 video views.
8,245,800 searches were performed on Youku that day, up about 1.84% week-on-week, generating close to 40 million search result page views: that means that the average searcher flipped through just under five pages of results.
Youku users uploaded at total of 60,050 new videos to the site, which is down about 4% and about normal for any given day: Uploads fluctuate considerably from day to day.
Hat tip also to Adam Schokora for pointing out Kaisers post on his excellent blog http://56minus1.com.