Chinese Search Engine Baidu: 70% of revenues will come from foreign markets within the next 15 years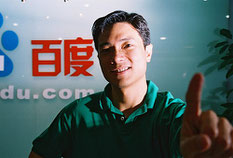 Robin Lee, CEO of leading Chinese search engine Baidu, is currently attending the Boao Forum for Asia. He there announced that his company is planning to heavily expand its international business, hoping to generate 70% of its revenues from foreign markets by 2025 at the latest. Key markets will be the US and Japan, said Lee.
The Boao Forum is an annual conference for Asia's most influential leaders in government, business & academia.