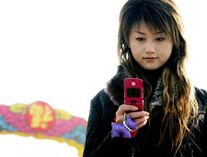 China's Ministry of Industry and Information Technology (MIIT) just released its Q1 Report on the Telecommunication Industry:
China's total telephone subscribers exceed 1 billion.
Mobile phone users reached 670 million, which is nearly double the fixed telephone subscribers.
Alone in March, the net increase of mobile phone users nationwide was 10,551,000 - a new monthly record.

Q1 2009 telecommunication industry turnover: RMB 587 billion (US$ 86 Billion), + 10,8%.

Q1 2009 mobile & data communication revenues grew by 10,4% & 7,7% respectively.

More in Chinese here: http://tech.sina.com.cn/t/2009-04-24/13453035964.shtml