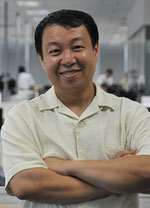 Fast Track Interview

Adrian:  So, today I'm sitting with Vincent Tao from PPLive. I don't think that anyone listening to this is going to understand this model initially and so, just be prepared for some interesting things. I'll just say one thing to start off - 120 million users from a company you've never heard of in China. We'll save the details for later on in the interview. Vincent, can you maybe take it away first just by telling a bit about who you are.
Tao:  Hey, everybody my name is Vincent Tao. I just moved from the United States to Shanghai, and joined PPLive as the CEO. I was with Microsoft for the last five years, and before that I was the CEO and the founder of a company called GeoTango. We built the product called GlobeView, a 3D earth mapping technology, which is two years ahead of Google Earth, and which was eventually acquired by Microsoft. In 2005, I joined Bill Gates' strategic project. I led a project called Virtual Earth, building everything from the ground up, and now, it has a market share of 80 percent in B2B.
Adrian:  I'm interested to understand why you're coming back to China.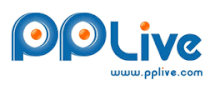 Tao: After I sold my company to Microsoft, it just started leading me from the small business world into the large one. At Microsoft, I was making a lot of decisions and was responsible for the global product and the business plan. That got me learning a lot about the business, how you scale a large business, how you manage a large team. After that I felt like "Hey, I still need more challenging work to do." One thing that started getting me excited about it was China. Everybody knows China is growing fast and they really need a lot of experienced entrepreneurs or people who have knowledge about how to run a large business.
Adrian: There's a market for people who have had a successful company already and are interested in moving to China, they could come in and run a start up that's ready to go to the next level?
Tao: That's right. Having worked with this large company, I understand how those large corporations are working. In my career, I really would love to do another kind of challenging work, like taking a company to the IPO.
PPLive is really not a start up. They are sort of in the early growth, middle growth stage. We have close to 200 employees, and with this kind of size, with this kind of revenue stream, I feel there is an opportunity for me to take the company to the next level, which to me is the IPO.
Adrian: At Microsoft, you reported to Bill Gates once a month. What was he like to actually report to?
Tao: For the first meeting I spent a lot of time preparing really awesome PowerPoints. His TA called me, "Vincent, Bill Gates doesn't want to see the PowerPoint. Whatever you have done or what you are going to do, show me the real demo thing rather than sort of flash fantastic PowerPoint." The second thing, and I think I remember, frankly that shocked me as well was at the first meeting, Bill asked me, "Hey, Vincent, show me your road map and your vision." I talked to Bill and said I want to build a team and I need to hire a lot of engineers, these are my head count requests. Bill said, "No problem, Vincent, with Microsoft you can hire as many as you want, but remember there's a bottom line. You can hire one person just tell me that this guy can bring $1 million for the whole team." You really have to think about whether the market size would be enough, and if the timing is good enough for you to really invest. It's not that something cannot be done; it is basically the timing and the ROI. The key I could tell you is how to maximize your investment, and do a return at $1 million per head kind of thing. Those have been good lessons for me, even until now.
Adrian: So, tell us about PPLive. As I see, it's a company with a 120 million users that nobody has ever heard of.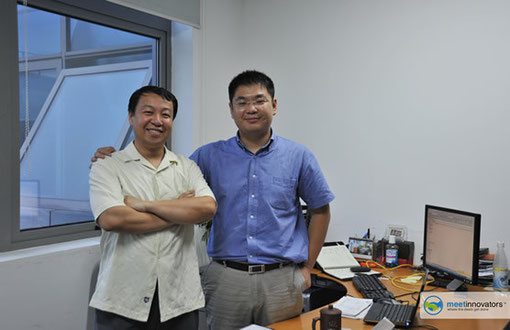 Tao: Monthly active users, 35 million active users, and total installation based on downloading the software, it's a 120-million user base. Essentially, our definition is web-TV, if you will. It's an online video aggregator. Like Hulu and many other online video companies in the United States. The technology is based on the peer-to-peer, P2P technology so you can stream the huge, massive videos to a large audience base with very little cost. Probably you'll be amazed, it's actually about anywhere from 2-5 percent cost of the bandwidth compared to other video companies.
This company has been hugely successful for three reasons. One, in China, the population is huge. When everybody goes online to watch a movie, to watch a TV, to watch the high-resolution stuff, it will really absorb a lot of the bandwidth. The second, the average bandwidth cost in China is about 2 to 5 times more costly than in the United States. Third, the internet is not as great as the United States even if the broadband penetration is very high. The internet infrastructure is not as smooth compared to the US.
Adrian: You've been here for a month. You're in as the flashy new CEO from Microsoft. What happened to the old founders?
Tao: The founder, Bill Yao works with me as the co-leadership. The founder of this company, he is really a technology guy, a very smart guy. He finished his first year graduate program and then quit it because he invented this technology at that time. He jumped out and started the company. It's quite an interesting story, like Bill Gates. This probably sounds like the first case in China, i.e. a co-leadership running the company. One person may make mistakes. With two, at least the possibility of making a mistake is getting less.
Adrian: Tell us, what is the legal status quo?
Tao: It's a bit gray, of course, but not as clear as in the United States. In China most of Chinese content is State owned. In terms of that and we have partnered with those major company providers. That's what we have to do in China and that's actually very clear. The gray area is the foreign content like content from the US or from other places. One is that the content does not have landing rights in China.
Adrian: You only allow stuff that can legally be broadcast in China?
Tao: That's right. Yes. And in those gray areas this is most of, some of the movies, especially US movies. And for China right now we're okay for those movies, because they don't have landing rights in China so they cannot even pursue it. And in China, those areas are defined as gray. I think those are going to be changed at some point. They even want to sell those movies in China. But they cannot because they don't have the rights to even distribute that content in China. The gray area is sort of a low control. Government could not control it; the content provider will not be able to control it. I think 90 percent of the content is Chinese made content, which can be distributed legally.
Adrian: I want to ask the big question, which to me is the big question anyway, how do you think you are going to monetize this?
Tao: Currently, primarily video ads because they could be the next big thing for internet companies. I think we do see the advertisers start to appreciate the measurability of online media. All kinds of marketing plan to build video ads that last 30 seconds, and they love for the viewer to view it as much as possible. For the younger generation of China or probably the most powerful in terms of purchase power, they spend more on the internet than the other categories. We see companies shifting the video ad budgets from TV to the internet.
Adrian: Do you have visions of this going international? I mean this is the company that could become the Google of TV - is that kind of your intention?
Tao: Yes. That's one of the reasons my next target is that I really want to build a Chinese company to be in international space. There are a lot of successful Chinese companies that only do well in the Chinese space, so my vision is really to bring the company to the next stage into the international. In fact, we're doing that right now. I'll be back to the US in mid-August, and I'll be meeting with many other potential partners. I hope we actually can start to copy our model, share our experiences and special technology, and work with many other partners.
Adrian: From this trip, just an aside for the readers: one of the things that I've seen in China is it's like a crazy scientist lab of business models being tested very cheaply. I had lunch today with a guy doing 4 million unique a month was the number and they've got 15 employees and they are spending just $13,000 a month. The efficiency of models like that and I imagined that PPLive must have similar, obviously larger, but similar sort of efficiencies are insane. You get to be so cost effective that it's going to be difficult for US companies to compete with the kind of cost structure that you can put in place. Am I incorrect?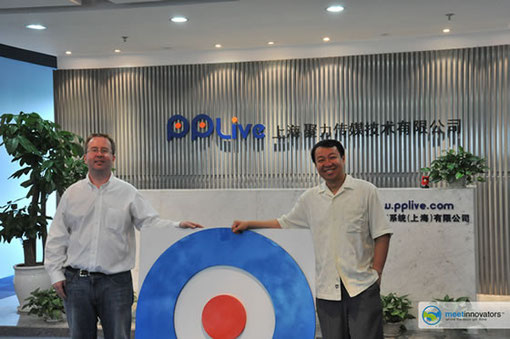 Tao: Yes. When I look at the competition, it has really changed in the United States. First, for technology-based companies. China used to be considered as sort of a labor power house. But now its power is actually more of knowledge workers, and each year 600,000 new engineers graduating from university. In the United States, we probably have like ¼ of it and even ¼ of that is less then when Microsoft numbers were looked at. That huge amount of engineers, they're smart and they work hard.
Everybody really wants to make something happen. There's a momentum of this culture right now. First, we have a really strong knowledge infrastructure. Very strong. The second, the capital infrastructure. In China it's actually something you can't imagine. The valuation of Chinese companies is generally higher than the companies in Silicon Valley.
If you start a company here, I could get $5 million USD with no problem. In the US, it's very rare you can actually get $5 million with just ideas. In China, valuations are high because many of those start ups when their actual goal is to go to NASDAQ for IPO, where you have seen all kinds of companies, like Baidu. Baidu made $350 million USD last year. The valuation is $8 billion. You can see that they only need to make a small amount of money for a big valuation. Baidu I think it's about 2 to 3 times in terms of valuation higher than Google.
For many companies in the United States, we can see the exact market size you would get, and you can see the end of it. But in China, the whole notion of the future growth is unpredictable. That's incredible. I think that's the key reason why I moved back to China. I feel, for this time, for me, maybe being a part of a Chinese company can grow the company much bigger because I have a capital infrastructure, I have people infrastructure. What else I need, of course, is management, which I can bring to the company with me. And I happen to be Chinese. That's an advantage that I think I should take and really leverage in my experience as a Chinese and a person who has overseas experiences.
Adrian: It would seem like you will become like ABC or CBS right? You got to become like a TV network. Is there a reason why you wouldn't become one?
Tao: We'd probably become one, but right now we're still sort of an aggregator. We're like distributing. Actually just after I joined I started to hire more people, and we're nearly at 200 right now. Probably by the end of the year we need to increase to at least 1/3 of it. We're hiring more.
At the moment, we will raise more money because I take a more aggressive approach to grow the company. I found out they have a very good foundation. The company has yet to break even, but based on the capital and the revenue stream now they can actually break even this year. I purposely postponed the break even time because I want to invest more. I don't think that you need to break even too early. Really, it is one, focusing on the revenue side; the other is focusing on the technology platform side because I feel the company has a unique asset in terms of its technology.
Even now, we're considering some possible merger and acquisition. We're looking at acquiring other companies - not selling the company at the moment. We're getting companies to grow the company much quicker because we still need more capital to grow into a stage that we actually can really move into some other international markets.