From defining your commercial goals, getting a understanding of your China audiences and discerning the best way to work out digital touch-points, we make experiences relevant and integral. This is the business intelligence and leadership approach we offer across all Chinese paid, owned and earned digital media channels: China brand site & campaign landing pages, Social Media, Key Opinion Leader Outreach, Online Display Advertisement, Search and Mobile Marketing. Fortune 500 companies entrust us with creating their China multi-channel strategies.
We are an award-winning & 5-Star / Gold-Star rated Tmall Partner agency ("TP") aka Trade Partner aka Taobao Partner specialized on E-Commerce and New Retail O2O setup and operations for foreign brands and retailers in China. Our core philosophy is to view E-Commerce as an integrated consumer experience from both a branding and sales perspective. We offer a one-stop solution for China incl. consulting, warehousing & 3PL, fulfillment, eShop development, T-Mall, TMall Global, JD Jing Dong, Kaola, ele.me, Meituan setup & management, customer support and ROI-oriented digital performance marketing.
ROI can be attached to every digital campaign - no matter if branding, customer acquisition or sales - in the end the bottom line has to be positive. Our clients push us to deliver measurable results, with the strongest returns possible. We accept the challenge & manage China digital performance marketing across paid search SEM, SEO, display media & retargeting, affiliate marketing, email & SMS. Our strength is a proprietary RTB ad tech solution for bid management optimization on Alibaba Express Train PPC and a DSP technology for Alimama Diamond Booth CPM.
ROI
Conversion
China Online Marketing
Baidu
Tmall
Tmall Global

China SEO
Market Entry
E-Commerce & Multi-Channel
Display Advertising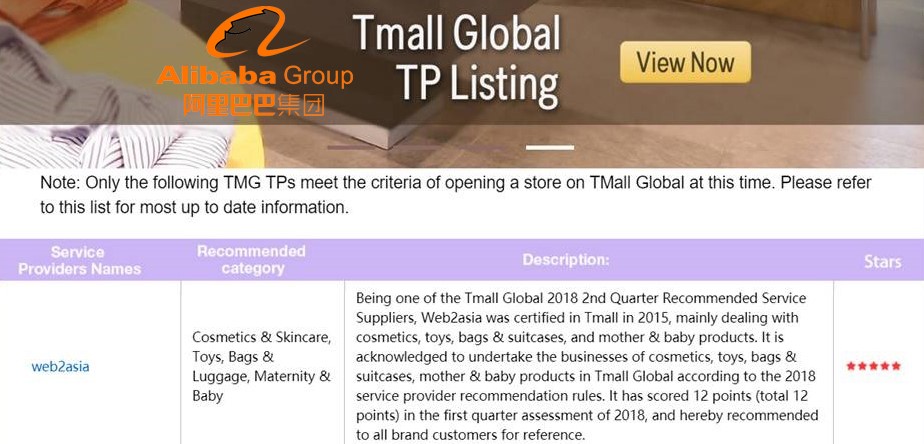 Tmall Global Partner "TP" - China E-Commerce Cross-Border  Sales
In 2014 Taobao Tmall launched Tmall Global (http://www.tmall.hk), which allows any foreign retailer or brand to sell directly to Chinese consumers without having a legal entity, warehouse or staff in China. Web2Asia is one of the leading certified Tmall Partners to setup and operate Tmall International shops. Shipping is managed via cross-border delivery or through bonded warehouse within a China free-trade zone.

JD Jing Dong Worldwide Partner "TP"  - China Cross-Border Platform & Retailer
In 2015 JD - China's largest online direct retailer and its no 2 Marketplace  - launched JD Worldwide (http://www.jd.hk). Similar to Tmall Global it allows any foreign brand or merchant to sell to Chinese consumers without having a legal entity in China. The additional benefit of JD is that they offer both a marketplace model like Tmall as well as can also act as reseller.