From defining your commercial goals, getting a understanding of your China audiences and discerning the best way to work out digital touch-points, we make experiences relevant and integral. This is the business intelligence and leadership approach we offer across all Chinese paid, owned and earned digital media channels: China brand site & campaign landing pages, Social Media, Key Opinion Leader Outreach, Online Display Advertisement, Search and Mobile Marketing. Fortune 500 companies entrust us with creating their China multi-channel strategies.
We are an award-winning & 5-star rated Tmall Partner agency ("TP") aka Trade Partner aka Taobao Partner specialized on E-Commerce setup and operations for foreign brands and retailers in China. Our core philosophy is to view E-Commerce as an integrated consumer experience from both a branding and sales perspective. We offer a one-stop solution for China incl. consulting, warehousing & 3PL, fulfillment, eShop development, T-Mall, TMall Global and JD JIng Dong setup & management, customer support and ROI-oriented digital performance marketing.
ROI can be attached to every digital campaign - no matter if branding, customer acquisition or sales - in the end the bottom line has to be positive. Our clients push us to deliver measurable results, with the strongest returns possible. We accept the challenge & manage China digital performance marketing across paid search SEM, SEO, display media & retargeting, affiliate marketing, email & SMS. Our strength is a proprietary RTB ad tech solution for bid management optimization on Alibaba Express Train PPC and a DSP technology for Alimama Diamond Booth CPM.
ROI
Conversion
China Online Marketing
Baidu
Tmall
Tmall Global

China SEO
Market Entry
E-Commerce & Multi-Channel
Display Advertising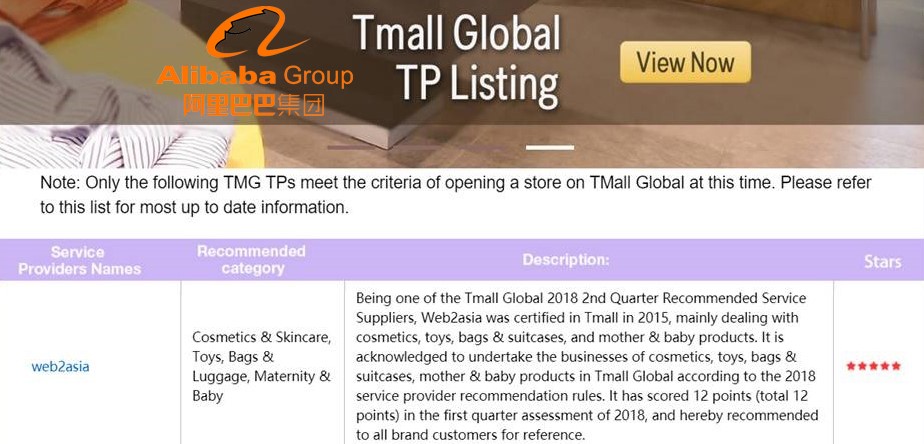 Tmall Global Partner "TP" - China E-Commerce Cross-Border  Sales
In 2014 Taobao Tmall launched Tmall Global (http://www.tmall.hk), which allows any foreign retailer or brand to sell directly to Chinese consumers without having a legal entity, warehouse or staff in China. Web2Asia is one of the leading certified Tmall Partners to setup and operate Tmall International shops. Shipping is managed via cross-border delivery or through bonded warehouse within a China free-trade zone.

JD Jing Dong Worldwide Partner "TP"  - China Cross-Border Platform & Retailer
In 2015 JD - China's largest online direct retailer and its no 2 Marketplace  - launched JD Worldwide (http://www.jd.hk). Similar to Tmall Global it allows any foreign brand or merchant to sell to Chinese consumers without having a legal entity in China. The additional benefit of JD is that they offer both a marketplace model like Tmall as well as can also act as reseller.
Latest News - Digital Pulse of China
Web2Asia's CEO George Godula was recently featured by Alibaba on what Tmall Partners TP or so called Tmall Trade Partner are and how they can help foreign brands sell to Chinese consumers through E-Commerce online. All content (c) by Alibaba Group. The full Tmall Partner TP list can be found on Tmall.hk.
Web2Asia is a five-star rated Tmall Global Tmall Partner TP that helps foreign brands setup and operate flagship stores on Tmall, Tmall Global, JD, JD worldwide, Kaola, Amazon China and WeChat.
One year after the launch dm-deguo-tmall.hk our client dm drogerie markt has been recognized as the 2017 Super Brand on Tmall Global and for setting new trends in the industry. The dm shop is also in the exclusive 100m+ club which is an award presented by Alibaba to all Tmall Global stores that generate more than 100mil RMB annual GMV. This is a fantastic result given that the store is only one year old. All credit goes to the hardworking teams at dm, our partner agency oddity, Alibaba and Web2Asia!
The award ceremony was held at the annual Alibaba Tmall Global TG100 Partner Summit 2018 in Hangzhou.
Watch how Web2Asia is helping British toy brand Jellycat with its flagship store at jellycat.tmall.hk to sell via cross-border E-Commerce directly to Chinese consumers. Jellycat has now achieved no 1 position in the entire Alibaba Tmall and Taobao plush toy category. This case study video on Jellycat's succes on Tmall Global was produced and published by Alibaba Group at http://www.alizila.com/video/worlds-squidgiest-toy-comes-china/.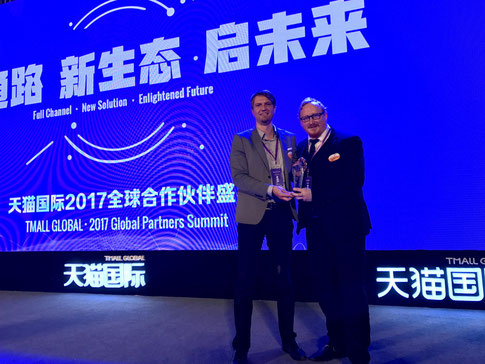 Our team attended the Alibaba 2017 Global Partners Summit in Hangzhou this April 18th 2017.
The event was a high level gathering of only C-Suite level representatives from Tmall Global key account brand clients and Tmall Partners ("TP's") respectively.
Web2Asia attended as Tmall Partner, representing five of it's Tmall Global key account clients:
Hansgrohe
dm-drogerie markt
Jellycat
Bellroy
METRO Group
Congratulations go to our client Hansgrohe for winning the most popular brand of 2016 award. Pictured to the left is Web2Asia CEO George Godula and Thomas Stopper who is responsible for all E-Commerce, Sales and Finance for Hansgrohe in Mainland China and Macao.
Below a picture gallery with further impressions from the event. Pictured are among others Alvin Liu, CEO Tmall Global, representatives from METRO, jellycat and dm-drogerie markt.