From defining your commercial goals, getting a understanding of your China audiences and discerning the best way to work out digital touch-points, we make experiences relevant and integral. This is the business intelligence and leadership approach we offer across all Chinese paid, owned and earned digital media channels: China brand site & campaign landing pages, Social Media, Key Opinion Leader Outreach, Online Display Advertisement, Search and Mobile Marketing. Fortune 500 companies entrust us with creating their China multi-channel strategies.
We are a certified and award-winning Tmall Partner agency ("TP") specialized on E-Commerce setup and operations for foreign brands and retailers in China. Our core philosophy is to view E-Commerce as an integrated consumer experience from both a branding and sales perspective. We offer a one-stop solution for China incl. consulting, warehousing & 3PL, fulfillment, eShop development, T-Mall, TMall Global and JD JIng Dong setup & management, customer support and ROI-oriented digital performance marketing.
ROI can be attached to every digital campaign - no matter if branding, customer acquisition or sales - in the end the bottom line has to be positive. Our clients push us to deliver measurable results, with the strongest returns possible. We accept the challenge & manage China digital performance marketing across paid search SEM, SEO, display media & retargeting, affiliate marketing, email & SMS. Our strength is a proprietary RTB ad tech solution for bid management optimization on Alibaba Express Train PPC and a DSP technology for Alimama Diamond Booth CPM.
ROI
Conversion
China Online Marketing
Baidu
Tmall
Tmall Global

China SEO
Market Entry
E-Commerce & Multi-Channel
Display Advertising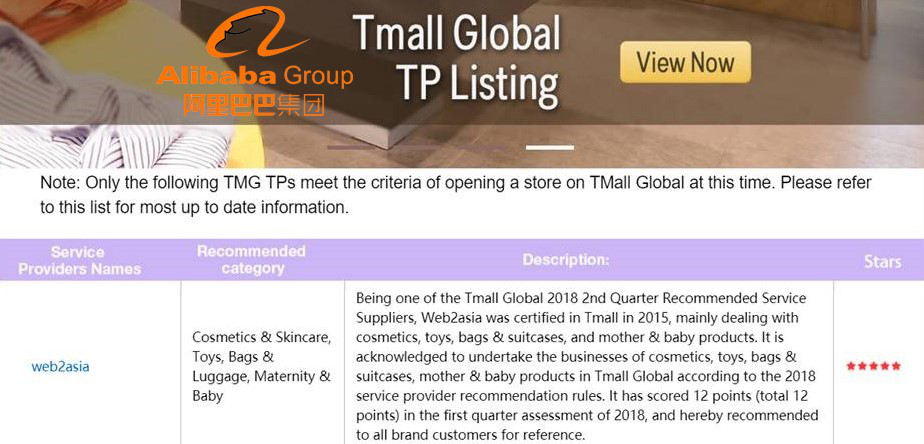 Tmall Global - China E-Commerce Cross-Border  Sales
In 2014 Taobao Tmall launched Tmall Global (http://www.tmall.hk), which allows any foreign retailer or brand to sell directly to Chinese consumers without having a legal entity, warehouse or staff in China. Web2Asia is one of the leading certified Tmall Partners to setup and operate Tmall International shops. Shipping is managed via cross-border delivery or through bonded warehouse within a China free-trade zone.

JD Jing Dong Worldwide - China Cross-Border Platform & Retailer

In 2015 JD - China's largest online direct retailer and its no 2 Marketplace  - launched JD Worldwide (http://www.jd.hk). Similar to Tmall Global it allows any foreign brand or merchant to sell to Chinese consumers without having a legal entity in China. The additional benefit of JD is that they offer both a marketplace model like Tmall as well as can also act as reseller.

Latest News - Digital Pulse of China
Web2Asia's CEO George Godula was recently featured by Alibaba on what Tmall Partners are and how they can help foreign brands sell to Chinese consumers online. All content (c) by Alibaba Group.
Today marks the flagship store Grand Opening of German drug store dm-drogerie markt on Alibaba's Tmall Global platform. Web2Asia worked for over one year in preparation of the launch together with dm, it's German agency oddity as well as Alibaba Tmall and Cainiao. Already in the soft-launch phase from December 2016 to February 2017 the flagship store became the largest German drug store on Tmall in terms of monthly Gross Merchandise Volume (GMV).
The store currently features dm's private label brands Balea, DONTODENT, Prinzessin Sternenzauber and DAS gesunde PLUS in the categories of cosmetics, dental care as well as children's personal care and health supplements respectively. dm is also one of total only three officially authorized resellers of Aptamil instant formula, which now is also made available to Chinese consumers via cross-border E-Commerce and with highest German quality standards.
About dm-drogerie markt
dm-drogerie markt is a chain of retail stores headquartered in Karlsruhe, Germany that sells cosmetics, healthcare items, household products and health food. With 38,890 employees, 1,825 stores and approx. 7.5 billion EUR in revenues in Germany, dm is Europe's largest retailer in the drug store category.
About Web2Asia
Web2Asia is an award winning China Digital Agency and E-Commerce Operation company. It works with foreign brand clients to setup shops on the major Chinese online marketplaces and maintain them with a full-service solution. Web2Asia is star-rated Tmall Partner ("TP") and recommended by Tmall Global.