CHINA SEARCH ENGINE MARKETING (SEM/PPC/CPC)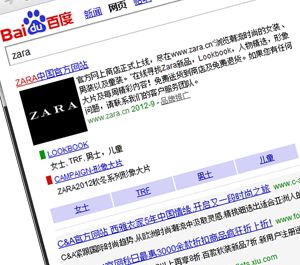 Strategic China / Baidu Search Engine Marketing Planning & Execution
Our China Search Engine Marketing philosophy is deeply rooted in the understanding of the consumer journey - from keyword research and prioritization, ad copy & creative development, over individual call to action to measuarble KPI's for each specific stage.
We tailor our China SEM campaigns based on consumer insight & behaviour, determining exactly which Chinese Search Engines such as Baidu, Google China, SoSo, Sogou, Bing China, 360 Search and eTao to advertise on and how to allocate budget.
Lastly, we believe in integrated China Search Engine Marketing (SEM PPC) & China Search Engine Optimization (SEO). Peforming a thorough gap analysis to determine which keyphrases to SEO optimize for and which ones to use PPC, maximising your overall China Search Marketing ROI.
ROI-Driven China SEM PPC Campaign Optimization on Tmall Taobao and Baidu
No matter if soft awareness or hardcore China Search Engine Marketing E-Commerce campaigns we believe in measurability and attaching a marketing ROI to every ad RMB we spend for you.
Following the respective stage of the consumer journey and your marketing objectives and targets, we will continuously optimize your campaigns to exceed the set goals – whether they are impressions, unique clicks or conversion metrics such as CPA, CPS, CPL, CPR, COS etc.
For Alibaba (Tmall & Taobao) search (Express Train / "zhitongche") we use our own proprietary RTB big management solution that can optimize towards the highest possible ROI.
Proven China SEM PPC Bid Management & Tracking Technology
We perfectionized our China-optimized bid management tools for Alibaba Express Train, JD Fast Train, Baidu and 360 Search through both Rules Based and Portfolio Based algorithms (available depending on decided tracking tool) to manage and optimize hundreds of thousands of keywords towards one common ROI goal.
Moreover we advise you on deciding the right tracking & reporting tools, whose costs and capabilities are a strong match for your needs (includes DFA/Click, Kenshoo, Omniture, Acquisio, Search Ignite, etc.).

Our presentations on China SEM: