CHINA SEARCH ENGINE OPTIMIZATION (SEO)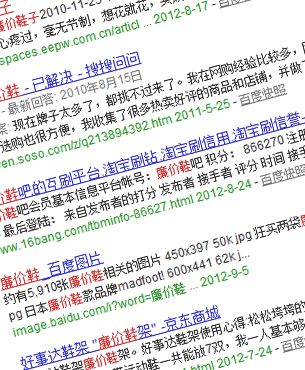 Chinese SEO Keyword Research, Prioritization & Optimization
The key success factor for Chinese SEO keyword analysis is insight on how local users search in the various stages of their consumer decision journey. Our entire search engine marketing approach is based on this proven strategy.
We use extensive sources to identify the most relevant keywords Chinese consumers use to explore your brand, products or services: existing media vocabulary audit, historical web analytics data, competitor analysis, social media Internet Word of Mouth (IWOM) monitoring, off-line focus groups, keyword multiplication & many more.
As a next step to develop your China Search Engine Marketing Keyword Repository, we rank keywords by their search volume and social media buzz volume, relevance to your site and their SEO difficulty to prioritize on the most ROI effective SEO keywords to optimize for.
Finally we perform an SEM PPC & SEO gap analysis to determine for which keywords top organic rank results can be achieved and for which ones SEM PPC is more efficient. This is particularly important for Baidu SEO, since it offers up to 8 sponsored search slots.
On-site Search Engine Optimization of Your Chinese Web Page
Once the SEO keyword repository & priorities have been decided, on-site optimization of your website architecture, code and content starts. This includes URL & meta tag optimization, internal linking and Chinese SEO copywriting.
We are also highly experienced with setting up your China sites Google & Baidu Webmaster tool accounts & if applicable product & shopping feeds to Google shopping/merchants center and Baidu shopping.
However our advanced China SEO approach does not end where traditional agencies stop. We take on-page optimization on the next level incorporating China speed & load time statistics, domain redirect analysis, etc.

Our presentations on China SEO:
China Offsite SEO & Online Reputation Management/China Internet Word of Mouth Marketing
Local hyperlinks to your Chinese site are one of the most important factors to reach top search positions on Baidu, Google China, Soso and Sogou. 
We use the full spectrum of highly effective but ethical SEO tactics such as indexation in relevant local directories, establishing ongoing link partnerships & exchanges, link bait campaigns integrated with social media campaigns, China BBS (Message Board) Marketing, China SEO optimized press releases, blogger & online journalists relations, Chinese article writing, blog content creation & seeding, development & distribution of Chinese infographics and many more.
At the same time we make sure your social media marketing is integrated and aligned with SEO goals to create strong social signals across Chinese social networks and services about your website.
We also have particular China expertise in utilizing SEO for brand protection and reputation management - pushing positive & favorable results on top positions and thus moving negative mentiones about your brand or products to the second page of the organic search results.