JD Jing Dong Worldwide Global Cross-border E-Commerce Platform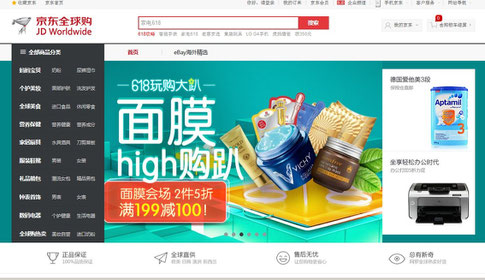 JD Jing Dong is China's largest online direct retailer by gross merchandise volume. JD has the largest fulfillment infrastructure of any e-commerce company in China.
It operated 7 fulfillment centers and a total of 123 warehouses in 40 cities, and in total 3,210 delivery stations and pickup stations in 1,862 counties and districts across China, staffed by its own employees. The Company provided same-day delivery in 134 counties and districts under its 211 program and next-day delivery in another 866 counties and districts across China as of December 31, 2014.
At the same time they offer a B2C marketplace similar to Tmall, which is currently no 2 but expanding rapidly. It also has the advancetage of being invested by Tencent - the creators of WeChat, China's most popular mobile messaging and general utility app.

JD Jing Dong launched JD Worldwide in April 2015 to tap into the rapidly growing China cross-border e-commerce market.

Similar to Tmall Global it offers overseas brands and merchants an easy entry way to well to Chinese consumers. The foreign companies do not need to have a legal entity or bank account in China. . JD Worldwide will offer a range of support to retailers to enable them to take full advantage of the JD Worldwide platform, including support on marketing to JD.com's nearly 100 million active users and access to JD.com's unparalleled nationwide logistics network. The platform offers two operation models:

Reseller model: JD Worldwide will buy inventory from international companies and resell to Chinese consumers directly with a mark-up

Platform model: JD hosts a foreign brand or merchants store on their platform and allows them to sell to Chinese consumers and take a commission of sales as fee. The yearly platform fee is USD 1,000 and depending on category a consumer deposit of USD 10,000 to USD 15,000 applies. Commission ranges from 2% - 10% and also depends on the exact product category.