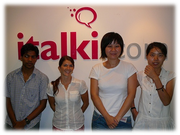 Shanghai-based language learning social network, italki, has accounced the first business member of its Language Marketplace: English training company, Eleutian Technology. The service offers one‐on‐one internet tutoring with US‐certified school teachers and Eleutian's SpeakENG product, which incorporates Pearson's (PSO) English Language Learning and Instruction SystemTM to italki's members.

Prospective students can visit www.italki.com and register for an eight‐minute trial lesson with one of Eleutian's American teachers via video‐conference. The product is called Eleutian SpeakENGTM, and students can subscribe to an integrated package of online multimedia English courses and videoconference tutoring. SpeakENG also offers real‐time assessment to measure progress and to track a student's needs.

This partnership marks the opening of italki's Language Marketplace to language schools. The Marketplace was launched in March 2009, and began by connecting independent teachers with students for paid online language teaching. In three months, nearly 3,000 teachers have joined the Marketplace to teach italki's 500,000 users. The Language Marketplace is now open to schools and companies that want to reach italki users with their language learning products and services.
For more information please visit the italki blog!