Apparently good news for people that love bad news: just in time for "GDC China" which is taking place in Shanghai these days (not to be confused with "China GDC" ...), the Chinese General Administration of Press and Publications (GAPP) issued several notes, which were instantly picked up by Western media, reinforcing once again its announcement from earlier this year that "foreign businesses were banned from investment in China's online game operations through setting up wholly owned enterprises, joint ventures and cooperatives."
However, as Inside Social Games quotes a Beijing investor correctly: This is a) not a new policy and b) "total BS".
Its just another display of power in the ongoing fight between the Chinese Ministry of Culture (MOC) who is backing up Think Services "GDC China" event and GAPP which supports the rivaling China GDC event from Howell Expo (Think Services former 2007 JV partner).
All of the large Chinese game companies (see our post of the most valuable internet companies in China here) are listed on international stock exchanges and/or invested by foreign VC, so are all of the currently most promising rising stars.
How to publish or operate a game title in China:
For simple licensing deals or software development in China, a WOFE or in some cases even a rep office is sufficient. However for actually publishing or operating games in China foreign companies are not entitled to hold the required game licence.
There are 2 work-arounds for this:
JV with the Chinese partner holding a majority stake
The the so called "Sina Structure" - see graph below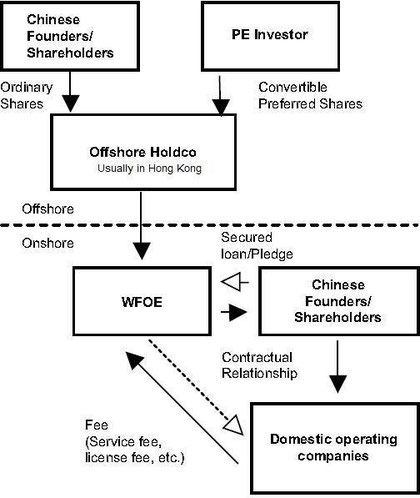 For licensing deals, approval usually takes around 8 months (not including time required for localization and other revisions).

According to GAPP each application will take up to 80 business days before any decision to be made. This however does not include game testing time, which can lead to GAPP ending up testing your game forever.
For the second option the entire process can take between 18 to 30 months or longer.
The key to success (as with all business in China) is of course your domestic partners relationships with all involved parties.