The Chinese Internet Network Information Center (CNNIC) yesterday released its latest report (Chinese only) covering the usage of online social networks in the Middle Kingdom. Before highlighting some of the key findings its important to keep in mind several points:
The survey was conducted in July 2009 via telephone and does not recognize recent developments such as e.g. the block of Facebook in China (in the introduction for example, the report talks about Facebook launching a Chinese version and how this stresses the importance of Chinese users to them ..)
The results are based on a sample of 3007 completed telephone interviews, covering seven provinces in China as well as a mix of tier 1, 2 and 3 cities.
So for the moment please find below just a 1:1 translation of the report highlights without further comments. Here we go:
Demographics and most popular SNSs:
By the end of 2009, China will reach 124 million users of online social networks.
The vast majority of users has accounts on multiple networks – on average 2.78.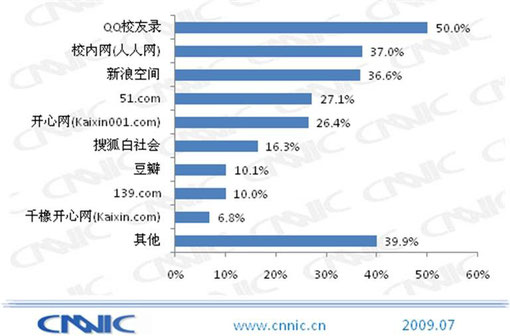 The most popular SNSs among the researched sample were QQ XiaoYou, XiaoNei/Ren Ren, Sina Space, 51.com and KaiXin001 – see graph above for details.
SNS users gender ratio is 52.9:47.1, thus slightly higher for men but almost identical to the overall profile of Internet users.
More than half of SNS users (52.6%) are aged 20-29, which is significantly higher than the average 22.8% of Internet users in that age group.
The major categories of SNS are student focused and white-collar oriented networks respectivley. An average monthly income of more than 3,000RMB is slightly higher (4.4%) than for the national average Internet user with 17.8% of all SNS users. However students with an income of less than 1,000 RMB/month still represent 47.5% of all SNS users, which is 3.3% higher than the overall average of Internet users.
College educated users form the majority of SNS users with 59.1%, which is 34% above national Internet user average.

User behaviour
SNS are built & grown by interpersonal relationships and word of mouth among relatives and friends. More than 80% of users were invited to join a SNS through friends, classmates or colleagues.
75.8% of users said that their online SNS friends are also their offline contacts.
40.2% said they would logon to SNSs once per week or less, 17.9%. responded that they use SNSs once per day and 16.4% ore than once.
More than half of Chinese users spend around 1 hour on SNSs, 22.6% spend up to 2 hours per day and 12.8% are logged on for more than 2 hours.
Main activities on SNSs are checking the newest picture galleries of friends as well as checking other (text based) updates from friends such as status updates and blog entries with 54.2% and 47.6% respectively.
Commenting on friends activities (51.2%) and photo album centric applications (48.6%) are the most frequently used features. Additionally 41.5% of users use their SNS network to promote their personal websites or blogs.
Communication an contact with friends is still the center of SNS activities: 51.6% use chat, 49.4% check status updates from friends and 47.4% scan their friends personal pages for updates.

Factors influencing the decision to join a certain SNS
Classmates, colleagues and friends influenced the choice of which SNS to join for 63.5% of all users. Additional factors considered are the availability of useful information (32.4%) and the access to up-to date and popular topics (21.4%). Only 18.6% base their choice of which SNS to join on the choice of available online social games.
The main reason for using SNSs is entertainment or gaming: 42.4% state "killing time", 27.4% "playing games" as their main motivations to logon.
31.3% of users have joined SNSs but later abandoned their accounts, which highlights the importance of fostering user loyalty with sticky content and user interaction. Main reason to give up SNS accounts were lack of interaction such as in 29% of the cases not enough interesting activities, not enough useful information (27.9%), not enough active friends on the SNS (26.5%), no commom topics to share as well as low involvement with 24.9% and 18.3% respectively. Single player games that did not require interaction with others accounted for 14.8% of users as a reason to abandon their SNSs accounts.
Value-added services and advertising
The majority of users recognize value added services, such as 40.9% that expect mobile usage and 25.6% who want third-party payment solutions.
 Overall female users have a higher acceptance of value-added services than men: 19.8% of women on SNSs expect and use virtual items such as accessories and gifts, which is 3% more than men. Men voiced a higher interest in B2C as well as C2C physical goods ecommerce transactions on SNS than female users.
Users with master's degrees had the highest preference for instant messaging, third-party payments as well as physical good transactions between users with 32.1%, 52.8% and 24.5% respectively.
Less than 30% accept advertising in various ways on SNS, incl. quizzes and votes (29.9%), targeted ads (26.6%) as well as 15.2% of users that do not like any form of advertising.
30.1% of users stated that they have never clicked on ads in SNS. Female users are more open towards ads on their profile pages, picture gallery advertising, interactive polling questions and quizzes than men. The ratio of men that does not like advertisement on SNS at all is 4.2% higher than the ratio of female users. Finally, users with master's degree or above have a higher acceptance for SNS advertising.