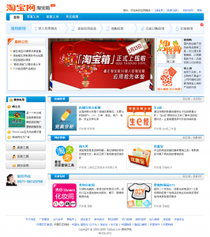 Taobao, the largest online shopping destination in China, has today announced the launch of the Taobao App Store and will invest RMB10 million (US$1.46 million) to foster promising independent software developers via the Taobao Open Platform (TOP) fund every year. The move comes less than 6 months after eBay opened up its market place for third-party applications last August.
The Taobao App Store (http://app.taobao.com) will offer solutions created by independent developers through TOP for Taobao merchants and consumers including tools for sellers and buyers; extensions for Taobao community sites; tools for product recommendation; and mobile phone applications.
The TOP fund established in October 2009 is jointly financed by Taobao, Alibaba Group and outside investors. As of December 2009, more than 25,000 independent software developers have registered on TOP and more than 4,000 applications have been created using the application programming interface (API) provided on TOP.
This article was cross-posted at http://thenextweb.com/asia/2010/01/15/chinese-ecommerce-platform-taobao-launches-app-store/