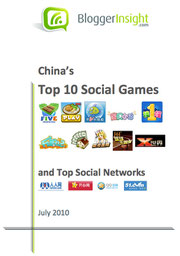 Our portfolio company BloggerInsight has just released a new report titled: "China's Top 10 Social Games and the Top Social Networks." It is packed with must-read info for developers, publishers, and investors.

 You can find a free preview here: http://www.chinasocialgames.com/wp-content/uploads/2009/12/Preview.pdf

For our Web2Asia readers we can offer an exclusive, limited-time offer to buy the report at a promotional price of $690 USD. The standard price is $990 USD. Purchase link: http://www.chinasocialgames.com/?page_id=487

REPORT CONTENTS (123 pages total):

1) Profiles of Top 10 Social Games
2) Analysis of Top Social Networks
3) Advertising on SNS (for both games and brands)
4) Interviews with Industry Insiders (both developers and publishers)
5) Statistics, Pricing Sheets, and Directories of Developers and Publishers

This extensive report analyzes the exploding social gaming market in China and describes how game companies can compete to succeed.