China Digital
Qihoo Reacting To Public Accusations
Fang Zhouzi, who is popular in China for his campaign against academic fraud, has publicly accused Qihoo's 360 Browser for being unsafe and collecting personal information about their users. Qihoo is denying these charges and has now even set up a page that should educate users about rumors concerning the company. Furthermore, the Weibo microblogging channel of Zhou Hongyi, who is the CEO of Qihoo, is filled up with posts about Fang.
Source: Tech in Asia
China Digital
Are The Chinese More Open On SNS or Microblogging Sites?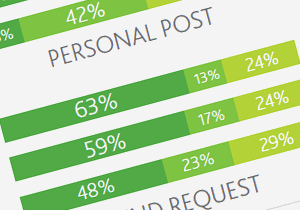 Recent investigation from consumer research company Nielsen reveals insights about user openness on Chinese social networking sites (SNS), compared to microblogs or location based services (LBS). The research for example shows, that users on microblogs are significantly more willing to accept friend requests than those on LBS. Furthermore the report states that 38% of the surveyed people are willing to use their real name on SNS, whilst only 13% use their real name with LBS.
Source: Resonance China
China Digital
Problems With Sina Weibo Registrations
It seems that China's biggest microblogging website is experiencing problems with user registrations. As C. Custer from news platform Tech in Asia was investigating, the platform shows several kinds of errors for people who want to register an overseas account. Others, however, have no problems to do this. Up to now, there is now further information on why this is happening.
Source: Tech in Asia
China E-Commerce
Amazon Stepping Into Fashion
Online retailer Amazon revealed their plans that the company is about to step into the fashion e-commerce business. They got a professional for creating the channels of Kate Spade and Rebecca Minkoff, which will be the first fashion brands supporting the new move. Hugo Boss already made a public statement that they will not cooperate with Amazon. Also the CEO of Louis Vuitton said they will no sell on Amazon's platform, since they want to use their own platform as an eShop.
Source: QQ Tech
China Digital
Baidu launches news app for Thai netizen
Baidu today launched a new version of its Windows PC app called Baidu PC Faster for Thai netizen. The apps launched in June this year in beta form. The now launched v2.0 adds some new features like full Thai language support. In the past Baidu already released an anti-virus app in Thailand. China's top search engine is expanding in the Southeast Asia region starting with Thailand with its 25 million web users.
Source: Tech in Asia
China Digital
Baidu About to Step Into O2O
As online-to-offline (O2O) is growing, more and more Chinese web services are trying to make profit in that field. News platform TechNode has reported, that China's biggest search engine Baidu has stealthily been integrating local services into their maps service. Maybe they can succeed this time, since Baidu already was troubleing in the e-commerce business with services like Baifubao or Leho.com.
Source: TechNode
China Digital
HTC Net Profit Down 79% In Q3
Taiwanese smartphone manufacturer HTC just published its performance report for Q3. The net profit after taxes decreased by 79% compared with the same period last year. Compared with the previous quarter revenue and profit saw declines. Apple and Samsung assert a strong pressure on HTC. To compete with them HTC launched several new products over the past two month. One ray of hope is the Chinese mainland market. Carrier relationships are still powerful and in the last quarter North and South Asia saw satisfactory sales.
Source: China Tech News