China Digital
Chinese Hootsuite Branding Coming Soon
Hoosuite's community VP Dave Olson, explains how Hootsuite plans to take China very seriously. We already know the company has recently added traditional characters and Sina Weibo support (blog post October 8th). Dave Olson reveals their plans to Tech in Asia: They hope to release their Simplified Chinese translation by the end of the year. This being said they would also like to increase Sina Weibo integration features, and explore integrations with other Chinese social networks like Renren and other Tencent properties.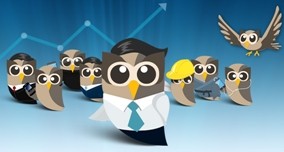 China Digital
China Exceed 200 Million 3G Subscribers
According to Ministry of Industry and Information Technology, China has broken the 100 million subscriber barrier in September of 2011, meaning that China has picked up 100 million new 3G subscribers in the past year. 3G networks first became commercially available in 2009, so the second hundred millions users came more quickly than the first. Although there are no signs of 4G in the commercial market, and not to mention their billion mobile users, it is unlikely 3G users growth will slow down any time soon.
Source: Huxiu It Feed Tech In Asia
China Digital
Baidu Establishes LBS Business Department
Chinese biggest search engine Baidu, announces a new location-based service business department. It will launch a new scheme named "smart life". With Baidu's map service reportedly gained over 77 million users, "smart life" will improve the company's LBS cloud platform construction and help deliver consumer information to a full range of services, covering food, movies, KTV outlets, shopping malls, hotels, buses, supermarkets, and parks.
Source: China Tech News