China E-Commerce
eBay Returns to China in 'Style'
On Monday, US auctions site eBay it launched a joint venture e-commerce store at ebay.xiu.com, dubbed "eBay Style" – that focuses on mid-range to high-end clothing, handbags, and accessories. It features brands like Banana Republic and Clinique, right up to couture labels such as Guess and Coach. To ensure that this is all available on mobile, eBay Style has launched its own iPad app.
Source: Tech In Asia
China E-Commerce
Taobao Exceeded USD 3 Billion
Bachelor's Day now has less to do with one's relationship but more about online shopping. Total transactions on Taobao and B2C shopping mall Tmall.com reached 19.1 billion yuan (or about USD 3.07 billion). Here, Tmall shares its statistics during Bachelor's Day.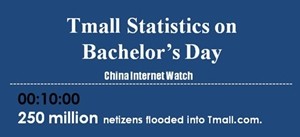 China Digital
Stuck In Traffic? China Mobile Opens Voice Mapping In 15 Cities
China Mobile has launched a new 12585 voice service hotline, which can provide real-time traffic updates and mapping for 15 cities in China. According to a representative from China Mobile's LBS base in Liaoning, when users do not know where they are or how to get to their destinations, they only need to dial 12585 and provide their destinations and the vehicle they use. The system will automatically find out their current locations.
Source: China Tech News
China Digital
Qihoo's 360 Search Finally Gets a Mobile Site
Qihoo's 360 Search has finally rolled out a mobile optimized site at m.so.com. The mobile pages are very basic, which the company still has quite a few offerings to add, It's likely that 360 Search will venture into other areas – like maps, images, and music – which will be yet more bad news for Baidu. 360 Search has rocketed to second place in this sector in China, with 9.64 percent market share chipping away from the dominant Baidu.
Source: Tech In Asia