China E-Commerce
Two-thirds of China Social Media Users Follow Brands
Research agency InSites Consulting's survey in Q2 found that two-thirds of China internet users following brands on social media—the highest percentage among all surveyed countries. Survey respondents followed an average 6.7 brands each in China, comparing to 15.1 brands followed on average in the US.
Source: China Internet Watch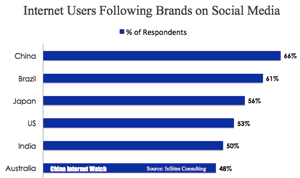 China E-Commerce
4399.com Third Most-searched Query On Baidu On 2012
Not surprising the top two most-searched queries on Baidu are Taobao and Q-zone, but that 4399 is in third position on Baidu's 2012 top ten search list, it may be unexpected but 4399.com, or 4399 Small Games, is one of the most popular small game portals in China, especially among kids. 4399.com, under a company named Xiamen Youjia, was launched in 2004 by Li Xingping, a legendary figure in China's internet history. In the first half of this year, the company's revenues increased 129.81% to 487mn yuan ($78.5mn), with 186mn yuan ($30mn) in profit, according to China Press and Publishing Journal (article in Chinese).
Source: Tech Node
China Digital
China Unicom Joins Windows To Boost Phone Sales In China
The world's third largest wireless operator, China Unicom, has today announced an alliance with Microsoft's Windows Phone to help boost sales and provide more innovative Windows Phone devices in the Chinese market, reports the China Daily. This comes at a big time for China Unicom, who seems to be racking up orders for the iPhone 5. This also allows Windows Phone a competitive foothold alongside such a strong Chinese carrier, which boasts over 70 million subscribers.
Source: Tech Crunch