Chinese E-commerce Market Exceeded 1.2 Trillion RMB In 2012
Last year, 242 million Chinese users made online purchase and Chinese e-commerce market saw more that 1.2 trillion RMB in transactions over the course of the year, according to new stats from China Internet Network Information Center (CNNIC).  81.8 % of the e-commerce users bought at least one clothing item every six months and the most common purchase were clothing items, also shoes and hats. 40.7% used a mobile device to browse e-commerce sites at least once in the past half year and 53.6% used a mobile app connected to the e-commerce platform they were browsing.
Source: techinasia.com
Online Cosmetics Retailers In China Launch Own-Brand Products
Chinese cosmetics e-commerce sites are launching their own brands of makeup and skincare products by building a vertical supply chain that combines outsourced production and sales through their web stores.Vendors pushing their own brands do not operate their own factories and instead outsource their production to manufacturers which are primarily based in the southern province of Guangdong. It takes less money for an e-commerce operator to launch its own brand. Most brands sold at stores need at least 30 million yuan (US$4.8 million), but online brands just need between 4 and 5 million yuan (US$646,000-$807,000).
Source: wantchinatimes.com
Taobao Releases A WeChat-Like CRM Service WeiTao
Taobao Mobile is going to add a new embedded service, to better connect customers and vendors on its platform, manage the channel more effectively, and adding some fun to the mobile shopping experience. Weitao users will also be able to publish their news on Mobile Taobao. The display layout of the feed page will be slightly different though for Weitao focuses more on the content itself rather than the publishers. And since Weitao is an e-commerce app, it will allows vendors to post their products with photos and demonstrations. Interested shoppers will be directed to the purchasing page by tapping the item they like.
Source: Technode
Baidu Grabbed 78% Of The Search Engine Market Share in 2012
In 2012, China search engine giant Baidu accounted for 78.6% of the total search engine market, Google for 15.6%, while Sogou 3.1% , according to China search engine market quarterly data in 2012 released by EnfoDesk. Baidu's growth tended to slow down since the second quarter of 2012, but kept its share to 78.6%. Although in the latter part of the year, Qihoo 360 entered the search engine market, however not affecting the traffic of Sogou search. 
Source: chinainternetwatch.com
Top 15 China B2C Websites In March 2013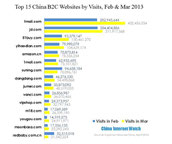 Last month the most popular B2C website in China was tmall.com with 432,456,034 visits, followed by jd.com and 51buy.com. There were also conerns that the visits growth rate of Tmall was up to 53%,  far exceeding that of jd.com, according to Experian Hitwise.

Source: chinainternetwatch.com