Chinese Yahoo Mail Shuts Down On August 19th
Yahoo has announced his users that beginning August 19th Chinese Yahoo Mail is going to be shut down and the user data will be temporarily transferred to Ali Cloud Mailbox.  Yahoo suggests that the mail history and contacts should be transferred from the Chinese Yahoo Mail before the deadline, since the data is going to be deleted and can't be restored after August 19th.
Source: qq.com
Chinese Online Shoppers Purchase 117% More From Overseas In 2012
A new report by Alipay revealed that Chinese online shoppers who bought items overseas spent around 1514 RMB on average and the total consumption went up by 117% yoy, higher than the expansion speed of local e-commerce market, which was 64.7%. When it comes to preferences in terms of purchasing from overseas, Chinese customers bought cosmetics, infant food, clothes, health products and electronics. In terms of regions in per capita consumption Zhejiang Province, Guangdong Provinces and Shanghai are leading the top. The No.1 cross-border online shopper from Hangzhou spent 3.1 million RMB in 2012, followed by a person in Shanghai that spent 375k RMB.51% shoppers spent 101-500 RMB per order.
Source: technode.com
Online Spending Of Chinese Cities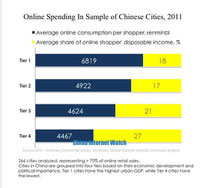 A research conducted by McKinsey revealed that e-tailing is powering the consumption of China. By analyzing consumption patterns in 266 Chinese cities accounting for over 70 percent of online retail sales, McKinsey found that: a dollar of online consumption replaces roughly 60 cents of sales in offline stores and generates around 40 cents of incremental consumption. When it comes to e-tailing's impact in China the online shoppers living in underdeveloped small and midsize cities spend as much money online as do people in some larger, more prosperous cities—and also spend a larger portion of their disposable income online.
Source: chinainternetwatch.com
The Future Of E-tail In China
By 2020, e-tailing could generate $420 billion to $650 billion in sales, and China's market will equal that of the United States, Japan, UK, Germany and France combined today, according to a new report by McKinsey. The research institute predicts that in the future e-tailing will continue to transform the retail sector in China and many of the China's store-based retailers and manufacturers are going to embrace multichannel strategies.This will encourage the competition and those merchants who want to operate independently are adviced to focus on superior customer service, fast and reliable delivery, a better shopping experience or more targeted marketing. For new entrants, marketplace is a good way of testing the waters.
Source: chinainternetwatch.com