China B2C Market In 2012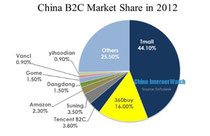 A report released by Enfodesk showed that in 2012, Tmall accounted for 44.1% of the whole B2C market, 360buy for 16%, and Tencent for 3.8%. According to the same source, this year,  the competition of the e-commerce platform is still the main melody in e-business industry. But it is worth noting that the cost of the new users acquisition will keep a stable increase, and the e-commerce will focus on existing users' value as their direction of development. 
Source: chinainternetwatch.com
China B2B Market In 2012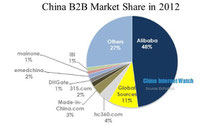 Last year,  Alibaba led the B2B market with the 47.9% market share, followed by Global Sources and HC360 ,with market share of 10.6% and 4.0% respectively, according to a report by Enfodesk. Today China's B2B market is in times of change, and every enterprise is going through the transformation according to their advantages and features, highlighted the same source.
Source: chinainternetwatch.com
Amazon's Kindle has to wait, Amazon Rolls Out Cloud Drive in China
Last week there were rumours announcing the launch of Amazon's Kindle hardware on the 16th of April. It didn't happened, but there is a concrete development with the rollout to Chinese consumers of Amazon's Cloud Drive feature. The Amazon Cloud Drive apps for Windows and Mac are now available in Chinese from the Amazon China site. Amazon Cloud Drive is up against a lot of local rivals, such as Baidu's Netdrive, a Dropbox clone that the search engine giant says has over 30 million users in the country. 
Source: Techinasia