This Is What You Talked About On Sina Weibo In 2012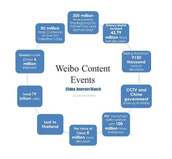 Last year, the number of Sina Weibo registered users exceeded the 300 million mark at the end of February, 400 million after July and reached over 500 million by the end of 2012. According to China Internet Watch, the platform counted 4.62 million active users, up by 82% compared to the same period last year. These are some of the most popular online topics on weibo platforms in 2012:  Spring Festival transportation, London Olympic, Gangnam Style. The Weibo posts maintained a steady growth trend in 2012. It peaked during the Olympic Games, and got another new jump after November.
 Source: chinainternetwatch.com
E-Banking Enjoys The Highest User Satisfaction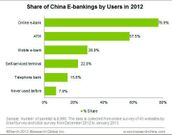 E-banking became an important part of everyday life and it covered the largest number of users in China. In 2012, number of online bank users ranked top occupying for 7.9% share of the e-bank users, followed by ATM and telephone bank with the share of 57.5% and 28.9% respectively. According to the iResearch analysis, popularity and application of online banking is the irreversible trend along with the rapid development of Internet. Last year most frequently used function of online banking and mobile banking was adding money to online shopping account and third-party account, according the report by iResearch.
Source: iresearchchina.com
Where Is The Economic Growth In China?
If you are wondering which are the most visible areas in China from an economic point of view, a report by the Economist Intelligent Unit revealed the Henan is the home to three of the fastest growing Chinese cities – Zhengzhou, Jiaozuo and Xinxiang. The province grew by 11.6 per cent in 2011, in part due to a huge inflow of foreign direct investment. According to a Reuters calculation based on figures provided by the Boston Consulting Group, by 2020 there will be nearly twice as many urban middle class and affluent householders in Henan than there are today in Shanghai. Chongqing, Hunan, Hebei, Anhui will also experience a boom in urban middle class and affluent households, with their numbers growing to about the size of Shanghai's currently.
Source: Reuters
Tencent Working On Mobile Gaming Platform To Commercialize WeChat
Tencent, China's largest internet company by value, is working on the development of its online gaming platform in order to commercialize its WeChat messaging service. This is the first step that the company is taking before tapping into an online-to-offline business model. At the same time, in the absence of a mature platform for developers to deploy their games in China, WeChat could develop its services without competitors. By some estimates, the platform could bring in 180 million yuan in revenue (US$29 million) per month for Tencent.
Source: wantchinatimes.com
Are China's Online Shoppers Starting To Buy More Foreign Good?
In 2012, 242 million people in China bought goods online, 212 million online users shopped via Taobao while 155 million used Tmall. Nearly 12 million Chinese bought overseas good online in the second half of 2012, according to Chinese Internet Network Information Center. Most of the people who bought overseas goods used domestic sites, since shopping on foreign sites requires overseas credit cards that are not available in China. Chinese shoppers purchasing goods overseas made an average of four purchases totalling 1,698 yuan ($275). The reason behind this is that shopping overseas it was cheaper than buying domestically. Clothes and cosmetics were both big sellers, followed by milk powder and electronics.
Source: qz.com