Sophisticated Online Consumers Push E-Commerce To The Next Level
China will become the world's largest online retail market in 2013, following years of rapid expansion according to Ministry of Commerce. It is true that online consumers are not only growing in numbers, but are also growing in sophistication and question the official news sources and advertising, preferring instead to get retail wisdom from online reviewers and social networks. A Boston consulting report revealed that more than 40% of online consumers in China post product reviews on the web, and one of the most common channels they use for this is Sina Weibo. According to a McKinsey survey, the reliance consumers place on objective online opinion is greater in China than anywhere else in the world.
Source: CKGSB Knowledge
China Remains America's Third-Largest Export Market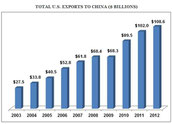 According to a report by the US-China Business Council (USCBC), China is America's third-largest export market in 2012 behind only Canada and Mexico.  Between 2003 and 2012, total U.S. exports to China rose 294 percent, an increase of nearly $81 billion. Over the same period, the growth rate of U.S. exports to China was nearly three times that of U.S. exports to the entire world, which increased by 111 percent. Last year, the U.S. was the fourth-largest source of Chinese imports, after the European Union, Japan, and South Korea. Forty-two states have achieved triple-digit export growth to China since 2003, and four states experienced quadruple-digit growth over the same period: Alabama, Nevada, South Carolina, and Vermont.
Source: alizila.com
China's Internet Cafes In Decline
According to a new report from the Ministry of Culture, China's Internet cafes are in decline, as home broadband and mobile connections become more accessible. This is the first decrease in eight years, the country had 136,000 cyberbars nationwide as of the end of 2012, a decrease of 6.9 percent year on year. The revenue of Internet bars plummeted by 13.2 percent to 53.7 billion yuan (8.7 bln U.S. dollars), the report showed. According the same source, Internet bars employed more than 1.03 million people.
Source: chinadigitaltimes.net
Digital Engagement in China
China's social media landscape is more complicated than its European equivalent since each network is always looking to "upgrade" and "evolve" and monetize faster and further than its competitors. And when it comes to reaching success through digital engagement in China this is what you should have in mind: get a precise message for a precise audience and communicate on the right platform for your business. Think global and act local. You have to be genuine and play the strenghts of your brand's authenticity, especially in China where counterfeit goods are a real concern. Be ready to pay, all the major social networks in China have taken steps to monetize their services and offered advertising rates depending on the type and size of campaign.
Source: Clickz Asia
China's Baidu To Acquire Online Video Firm For Near $400 million
According to China Business News, China's leading search engine, Baidu Inc is going to acquire Chinese online video firm, PPS Net TV, for between $350 - $400 million. China's online video industry is very competitive and contents costs are high.  When acquired PPS and iQiyi will continue to operate as independent brands, but will share back-end technical integration.
Source: Reuters