China Mobile Internet Shopping Market Update For Q1 2013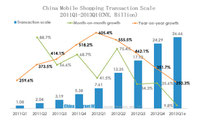 A new report by iResearch shows that Chinamobile shopping has been developing at a rapid speed since the first quarter of 2011. Experts underline that the development of mobile shopping is due to the fast adoption of smartphones in China. As for the mobile shopping transaction rates in China, Taobao owns the majority of the market with 75.1% market share, followed by 360Buy and Tencent.
Source: chinainternetwatch.com
Amazon's Kindle To Be Launch In China
Next month Amazon.com Inc will start selling its e-book readers in China as the online retailer seeks to cash in on the digital content it offers in the world's second-largest economy. Suning, the country's top retailer of home appliances by market value, has signed an exclusive partnership with Amazon to roll out the Kindle e-book readers and the Kindle Fire tablet. Sunning's e-commerce portal will serve as an alternative for online purchase of the Kindle, enabling nationwide delivery.
Source: china.org.cn
WeChat Has Over 50 Million Users Outside China
China's beloved software app Weixin/WeChat is starting to be successful internationally, counting 50 million registered users outside of China. Today the messaging app has over 400 million users, about 195 million of them are active users. This can only mean that WeChat is catching up fast to the 200 million active users of WhatsApp, a similar messaging app used primarily in North America.
Source: iresearchchina.com