Alibaba is in New Hands
The new CEO of Alibaba, Jonathan Lu, has one goal in mind. On his first interview as CEO of the company he showed his intention to make the company more dynamic in order to allow it to adapt to new competition. Despite being one of the largest IPOs in the world, Alibaba has been recently challenged by the massive migration of online shoppers to smartphones. In an effort to look for funds for further changes and investment in the company, Lu announced that the company could make an initial public offering but that "there's no timeline or date" for the event.
Source: WSJ.com
Internet Video Companies Are Going Mobile
People in the technology field speculate of a coming era led by mobile equipment. They do not seem to be off target as every month over 100 million people use their mobile phones and tablets in order to access online video sites. To reinforce the speculation of the mobile equipment takeover, PPStream announced that their mobile application has not only been downloaded 150 million times, but the usage of their mobile apps is also now equal to that of their PC-based services. The success of PPStream's mobile services lead Baidu to buy it this past May. Furthermore, another Internet video company, Youku.com, has also expanded into the mobile services. Youku did this by connecting all of their PC-based content with their mobile app. 
Source: Caixin Online
A Brief Close Up of China Mobile Consumers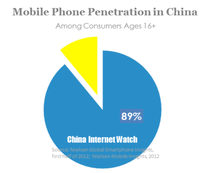 Among the mobile service providers, China Mobile has a phone penetration of 89%, with 66% of it being smartphone usage. Evidently, when it comes to smartphones they are more popular among the youth, as 82% of Chinese between the ages of 16 and 24 possesses them. Among smartphone users, web browsing, applications and social networking are highly popular activities, however, texting remains the most popular of all. With access to web browsing, many smartphone users access video sites, with 17% of smartphone users indicating that they watch more than three videos per day. When it comes to purchasing a mobile phone, money is the top criteria followed by the operating system of the phone. 
Source: Nielsen Global Smartphone Insight via China Internet Watch
The Battle for Asia's No. 1 Logistical Center Intensifies
Two giant B2Cs, JD.com and 51buy.com, appear to be in a fierce competition to posses the largest logistic facility in the Asian continent. JD.com had previously announced its intention to invest the quantity of 5 billion yuan this year in order to build the largest logistical operations center in all of Asia. Yet, 51buy.com has no intention of staying behind and has declared it will build 10 logistics facilities in different Chinese cities, such as Guangzhou, Chengdu, and Nanjing. These 10 new facilities will add on to the 6 the company currently possesses. In addition, one of 51buy.com future facilities will be of an area of 133,333-square-meter, making it the largest of its kind in Asia.     
Source: The China Perspective
One Bad Apple Spoils the Lot for Yihaodan
China's largest online supermarket, Yihaodan, is experiencing supply chain problems. Since adding a fresh fruit and vegetables section to its website in April, the company has struggled to manage the supply chain. For instance, fruit and vegetables have a much shorter shelf life than other supermarket products, which has resulted in fresh produce spoiling in transit. It is for this reason that the Chinese business journal, Economic Information Daily, describes E-Commerce as Yihaodan's "Bad Apple". However, fresh fruit and vegetables remain in great demand. Mo Dai Qing, a freelance China E-Commerce analyst, suggests that online supermarkets are gravitating towards fresh produce because of competition for clothing and electrical goods from sites such as TMall and Taobao.
Source: Economic Information Daily
Gānbēi! Here's to Maotai's New Online Sales Platform!
By the end of 2013 it is estimate that e-commerce transactions for high-end alcohol may exceed $6 billion and $10 billion in 3-5 years time. Guizhou Maotai has announced a new online sales platform. The move is part of a series of transformative new initiatives by the company. Maotai, like its European counterparts cognac and scotch, is seen as a Chinese signature drink around the world – a high-end product often presented as a gift to foreign dignitaries visiting China.
Source: Xinhua
The Latest Trend in E-Commerce? - Smart TVs
Can you imagine shopping online whilst watching TV? In China, the answer is yes. E-commerce analysts predict that Smart TVs, which are at present limited to a small number of consumers, have the potential to radically reshape online shopping. At present, Smart TVs account for only 0.003% of colour TVs in China. However, a regular TV can be connected to the Internet using an HDMI cable. Consumers can transform their regular TVs into Smart TVs by buying a Smart TV starter kits. These are now available for purchase from major network providers, such as CNTV.
Source: China Consumer Network
K'NEX Expands E-Commerce in China
K'NEX has announced the launch of a Tmall-based retail platform in partnership with Export Now - an online platform that helps U.S. companies tap the growing market demand for their products in China. One of the world's most popular lines of children's construction toys, K'NEX building sets let children build and create models by connecting together specially designed building pieces. The toys are designed to inspire creativity, build self-confidence and encourage interaction among children and parents. The web site will provide greater access to the Chinese consumer market for popular K'NEX building sets such as Angry Birds, Super Mario Brothers and Mario Kart.
Source: Consumer Goods Technology