Wakeup Call for Luxury Brands: E-Luxury is on the Rise!
It seems like several luxury brands in China are fearful of the country's e-commerce market due to concerns over distribution, quality and infrastructure. However, according to a study by the business advisory firm: Observer Solutions, China's e-commerce has been growing exponentially since 2011 and it prognosticates unforeseen growth of the market by 2015. Thus, according to the study luxury brands need to take advantage of the prospective growth of the e-commerce market, if they choose not to then they will suffer the consequences. According to Observer Solutions, if you do not put your brand online, then others will be selling it on consumer-to-consumer platforms. In fact, as of now C2C dominates the luxury market because of an existing unmet demand.
Source: jingdaily.com
What Motivates People to Follow Enterprise Accounts on Weibo?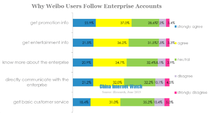 In 2012 there were 300 thousand Enterprise Weibo Accounts. On a recent study by iResearch based on these 300 thousand accounts, it is shown that the top five most followed Enterprise Weibo categories were: online shopping, entertainment, consumer, electronics, catering food and clothing. The question is: why do users of the social platform follow Enterprise Weibo? Well in 2012 users mainly id it with the purpose of getting promotion and entertainment information. While on the other hand, obtaining customer service meant the least to users. 
Source: chinainternetwatch.com
Taobao's Fine Art Auctions
Taobao has begun to trial online auctions for works of fine art, in response to a similar announcement by the world largest e-commerce platform, Amazon. Taobao has teamed up with Beijing-based art auctioneer Fu Baoshi for the first 61 artworks to be auctioned, with 95% of works selling for more than 10 times their original price. Since its launch at the end of June, the online auction platform has generated over 17.79 million yuan, making it the largest and most profitable art auction in Chinese history. In a company statement, Taoabo said it was "pleasantly surprised" by the success of its latest online innovation.
Source:  China Economic Net
Sogou's Newest Innovation: Sogou Baike
Today, Sogou launched its new Wikipedia-like encyclopedia: Sogou Baike. The new encyclopedia has been designed very similarly to the already-existing Baidu Baike and Hudong Baike. Surprisingly, despite its recent launch, Sogou Baike already counts with a vast amount of data.
Source: tech.sina.com