China Digital
Baidu Continues to Obtain More Acquisitions in 2014
Despite a 50.3% rise in revenues year-on-year, net profits for Baidu dropped 0.4% during the last quarter. Most of this dip can be attributed to a veritable acquisition sprees that the other two Chinese Internet giants (Alibaba and Tencent) went on last year. In the past year, Baidu bought 91 Wireless, an Android app store, Nuomi, a group-buy site, a video portal, and Zongheng, and e-bookstore. 20% of Baidu's total revenues, however, came from mobile, as it runs the fourth most popular android app store in China.
Source: Tech In Asia
China Digital
Jingdong Interested in the Virtual Credit Card Market
As we mentioned previously, JD.com has established its own virtual credit line for its customers, with much cheaper rates than traditional banks. How can the platform be able to charge so much less? It can do so because of the enormous amounts of shopping records that it has collected over time. For example, if a customer regularly buys maternity and baby products, that customer is more likely to have a family and stable income, thus resulting in personal credit. The question that now arises is: Will Jingdong's credit service be able to replace some small credit cards? Some finance experts seem to think that it is indeed possible. However, what might be the biggest obstacle in JD's way is the other Internet giants who are also trying to become major financial players.
Source: iResearch China
China Digital
LinkedIn has Launched the Chinese Localized Version of Its Site
LinkedIn launched the beta version of its site on February 25th, naming it "Ling Ying." Learning from the previous in-China failures of other Internet giants like Google and Ebay, LinkedIn built an entirely new model to take on the Chinese demographic. LinkedIn actually established a joint venture in China with Sequoia China and China Broadband Capital instead of simply setting up a branch company in the country. With the help of local companies, LinkedIn China could more easily operate in a Chinese manner.
Source: China Internet Watch
China Digital
E-Commerce Goes Rural
Chinese-developed online games generated revenues of $1.82 billion USD overseas in 2013, an increase of 219.3% from the year prior. The growth was mainly caused by mobile games. In Taiwan, 5 out of the 10 most popular mobile games are from mainland China, as is the case in Vietnam. Asian countries are the most important target markets for Chinese game development firms, as cultural differences keep Chinese games from rising to the top in American and European markets. Apparently, Asian gamers prefer their games to contain more verbal information, while Western players prefer something a bit cleaner.
Source: iResearch China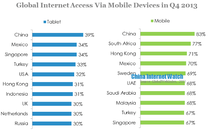 China Digital
China has the Highest Mobile Penetration on the Planet
On average, the global mobile Internet penetration rate is 65%, whilst the percentage for China is even higher at 83%. In addition, China also has the highest tablet Internet penetration as well, reaching 39% in Q4 2013.
Source: China Internet Watch