China Digital
Ctrip to Implement WeChat Payment Service for Purchasing Attraction Tickets
Users of this service will soon be able to buy train tickets, group-buy deals, gifts cards, and more. Unlike purchases for flight tickets, hotels, and other similar travel-related necessities, attraction tickets are more likely to purchased via mobile devices as they require smaller amounts of money and are usually needed during the actual time of travel. Purchases made through this WeChat payment system will be eligible for discounts of 20%-30%, while ordering through the proprietary Ctrip mobile app will allow users to receive a 5 RMB cash reward.
Source:Huaxia
China Digital
Tencent Likely to Buy Stake in Jingdong
Tencent has reportedly hired Barclays to advise on the matter of acquiring a part of JD.com, China's second largest B2C e-commerce marketplace. This move will afford Tencent more leverage in competing in its multi-faceted rivalry with Alibaba, China's other Internet giant.
Source:eBrun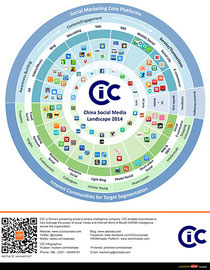 China Digital
China's Social Media Landscape for 2014
For every Western social site or app, there seems to be a Chinese counterpart. Typically, these Chinese-developed sites are in response to things blocked by the Great Firewall. In any case, the Chinese social media scene is a much different animal to that of the West, and the accompanying infographic may help to demystify things just a bit. Some highlights of the graphic are as follows:
WhatsApp is not often used in China. Its counterpart, WeChat, is the main messaging app used by what feels like the entire Chinese population.
Youtube is blocked, but there is a wide array of video services to choose from, the most popular ones being Youku and Sohu. These sites often contain licensed telvision shows and movies.
Even when the Great Firewall isn't in the way, Chinese apps still seem to be more popular, as is the case with WhatsApp, Instagram, and Vine.
Source:Tech In Asia
China Digital
Alibaba's Mobile Taobao 3.8 Life Festival
Riding on the coat tails of its hugely successful Double 11 Shopping Festival, Alibaba has developed a mobile-centric version to take place on March 8th. The "festival" will feature discounts for merchandise, meals, movies, and more when customers shop via Alibaba's Taobao mobile app. To take advantage of such discounts, consumers will have to pre-order goods and services in the days prior to March 8, when they can redeem their purchases. On 11.11, 21% of purchases were made via mobile devices. The Taobao mobile app now has over 400 million users, and Alibaba is making a concerted effort capitalize on the ever-increasing usage of mobile devices to shop for products.
Source:iFeng
China Digital
Chinese Consumers Are the Most Avid Mobile Shoppers
Over half (54.9%) of Chinese consumers use their mobiles to shop, the highest percentage in the Asia-Pacific region. Other countries that follow closely behind are Thailand, Korea, India, and Indonesia. Why the growing number of mobile shoppers? The top reasons stated were convenience, the ability to shop whilst on-the-go, and the increasing number of apps that make it easier to shop in this manner. Clothing and fashion accessories came in first as the most bought items via mobile, followed by apps and music. The rise of clothing and accessories to the top of the list indicates a strong shift by sellers to enrich the mobile experience for their customers and making things more convenient. Almost 100% of Chinese respondents have said that they've bought at least one thing online in the past 3 months. One main point of consideration, however, is security, with 85.3% of the Asia-Pacific respondents citing that as a main concern.
Source:Retail In Asia