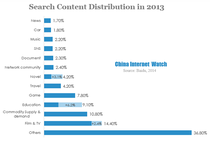 China E-Commerce
What Content Did Chinese Search Most In 2013?
A new report released by Baidu shows that in 2013, the top 5 most-searched contents were film&TV, commodity supply & demand, education, game and travel. The demand for education, travel, film & TV increased significantly in 2013. Baidu suggested webmasters paid attention to these field.When it comes to education webmasters may integrate information about professional examinations to provide one-stop service for users. In terms of course ware and recommendation, websites could segment users according to their vocation and demand, then provide them with specific information.Regarding the demand for travel, there are noteworthy differences for webmasters.The film &TV resources can be deeply integrated by relationship between films and actors. The content construction of information about film & TV is also important for webmasters.
Source: China Internet Watch
China E-Commerce
Alibaba's Introduction of the 'Cloud App'
Alibaba shifted up a gear against Amazon this week, with founder Jack Ma announcing the 'Cloud App' – a cloud service targeting the mobile user. Alibaba has moved quickly in this sector: February 24th 2014 saw an alliance between Alibaba and Neusoft (China's biggest multinational IT service provider) to develop this cloud service. Amazon's web service 'AWS' was launched in 2006 and has grown to be the global leader in cloud computing. Their dominance globally has led Amazon to entering their 10th market with confidence, and December 18th 2013 saw this entrance into the Chinese market, leading to both Ali Cloud and Tencent Cloud giving 40% to 50% discounts on their service. Although AWS is seen as invincible in the global market, the Chinese market may be a harder nut to crack - Alibaba will not give up without a fight.
Source: China Internet Watch