About us: Lead Consultancy & Digital Advertisment Agency
Overview
Web2Asia is focused on three core activities in China, and to some extend Japan and Korea:
Media & Events
Market Entry & Localization: Market Research & Strategy Consulting
Lead Agency & Digital Marketing Services: Digital Marketing (SEO, SEM, Media Buying, email marketing, Social Media Marketing) and E-Commerce services such as customer support, fulfillment, online shop development, etc.

Examples of our Events & Publications:

Our Presentations on Slideshare:
Strategy development and implementation of your expansion to China
Web2Asia considers itself the premium market entry partner and consultant for Western Internet, e-commerce and consumer brand companies to successfully launch and grow their online business in China.
Work with a trusted partner to maximize potential and minimize risk
Active since 2006 we already have a proven track record of localizing and scaling E-Commerce & consumer brand companies online. From market entry studies to business plan development and localization to executition of online marketing campaigns in Search Engine Marketing (SEO), Search Engine Marketing (SEM), Social Media Marketing, email marketing, media buying and community support.

Multicultural Team with strong Web 2.0 and VC background

Based in Shanghai - one of Asia's most dynamic and fastest growing cities - our team consists of  Internet entrepreneurs, Marketing Experts, IT Specialist and Web 2.0 Aficionados from all around the world.

Effective Quality Management
Our Shanghai headquarters successfully passed its ISO 9001:2000 certification in December 2007 and is committed to the highest customer satisfaction.
One with the strength of many
As a division of the international marketing and BPO agency MH | direkt, we and our customers benefit from the know-how, infrastructure and global network of our parent company.
About MH | direkt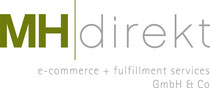 MH | direkt is a leading international provider of Direct Marketing and Fulfillment services for eCommerce, mail order and B2B companies since 1996.
A dedicated team of over 150 professionals offer a complete range of services worldwide in more than 25 languages.
Industry Expertise
IT:more than a decade of research and software engineering for its fulfillment system technology
Marketing: professional online & offline promotion for its customers represents the core business process for mutual success
E-Commerce & Fulfillment: trusted outsourcing partner for Europe's online shop & mail order enterprises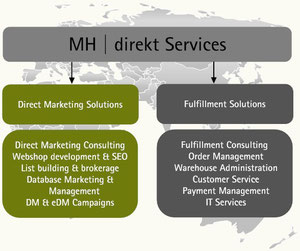 A global network
Headquarters in Austria/Central Europe
Subsidiary in Shanghai/China est. 2006
Subsidiary in Chicago/USA est. 2008
Strategic partnerships in India, Australia, UK and Slovakia