Gizmoz moves to Asia: Interview with founder Eyal Gever
May 2nd 2008
Founded in 2003 by Eyal Gever, Gizmoz offers consumers a new generation of character-based visual expression for use across their digital lives. The Gizmoz service makes it easy and fun to create, customize, animate and share lifelike, 3D talking characters that enable individuals to put a unique face and voice to their digital communications.
Gizmoz characters can be fashioned either as a self-portrait starting from a single 2D profile photo, or created using images from the Gizmoz library, all in just a matter of minutes. The result is a customized digital character that can be used to deliver personalized, lip-synched messages in video clips and other forms of original content.
In May 2007 Gizmoz has raised USD 6.3 million in Series A led by Benchmark Capital with Columbia Capital. The company has raised another USD 6.5 million in Series B financing from a round led by DoCoMo Capital, a subsidiary of the largest mobile phone operator in Japan, in March 2008.
Founder & CEO Eyal Gever was running Zapa Digital Arts before founding Gizmoz. Zapa developed visual communication solutions consisting of complementary authoring environments and servers based on proprietary Java and 3D technologies. Founded in 1993, Zapa has emerged as an industry leader in its efforts to fuse art and technology to produce unique, innovative, visual communications solutions for the rapidly developing Internet marketplace.
1. Could you please share the founding story of Gizmoz with us – the idea of animated avatars was already born years ago with the development of Ch@aracterz.
I have been working on cutting edge multimedia technologies and services since the early 90s. I have worked on various projects and released on of the first virtual worlds in the mid 90s. The project received a lot of exposure and media attention.
Ch@racterz was an interesting project. We had a deal with Microsoft and Intel, we all had big visions – those were the 90s, we were all visioning how the internet could be.
In this time ICQ was born, a completely text based instant messaging application without any visualization [In 1996 four Zapa employees left the company and came up with ICQ, note from the author]. I surely do not take any credit for ICQ, but it was all about the common vision what that internet could be.
Gizmoz is a completely new company that I founded in 2003. It was my vision and experience that let me analyze the market and let me understand that there is a great opportunity now. Bandwidth and processor power were no issue anymore. There is a big market for user generated content (UGC). To put it in simple: my vision was to create a service where users can create UGC in a simple way, but the result would be "Pixar for the people". I created some basic rules for the service: (1) cross platform, (2) global appeal (not US centric, not English, I have developed lip sync which works with any language, the software only analyzes the phonics and allows lip sync in real time), (3) must be fun and simple.
For years I have developed the core technology, an emotional engine that drives behavior and animates the character; that basically creates animations on the fly. My team and I, we had the vision to enable users access technology that up till now was used by the Hollywood studios and enable them to express themselves and tell stories and be very creative online. It took us a lot of passion and years to get here. Basically the differentiation point of view is that we do not envision the product as avatar. We provide a way for people to tell a story. We enable people to create any character they like. The DNA in this offering is much more. We decided to focus much more on enabling engagement of users instead of seeing the product as avatars. It's more about empowering users and enabling them to generate content, tells stories and express themselves. An avatar is only an image that represents me in a virtual world; a Gizmoz is more like a character that empowers me to communicate and tell stories.
2. You recently raised USD 6.5 million in a second round funding. With the new funds you want to expand your business in Asia, starting with Japan. Why is the Asian mobile market the perfect destination for Gizmoz right now? How do you assess the Chinese market for Gizmoz?

The funding by DoCoMo and NGI is a very strategic one. We believe that Asia in particular is a huge addressable market for us, but we need to manage our focus very smartly. The company needs to be successful. There is a huge opportunity for Gizmoz in the US. For now our plan is to grow gradually in the US and prepare for Asian markets. We are around 30 people in Gizmoz. We are growing carefully. Most are working on the business strategy side in the US. For Japan it is more a commando team.
China is great; I visited twice the last year. I met many companies, it's impressive and mind-blowing, but I am learning it is hard to come. You need to work closely with strategic local partners. Local facilities and local hosting are necessary before you come in. It just happened to get more advanced in Japan, but both markets are advanced. When and how we enter Japan I do not know. We are still working on a full plan for Japan. We want to go to Japan, but we want to do it right.
3. Localization is a big issue when entering foreign markets, especially in markets like Japan and Korea. How do you prepare for the entry in Japan?

Our product needs localization, but it's not just about translating the service. It's much more about cultural localization. We need to have the right people out on the ground that are able to build the right strategy in the right place. We need to look at the ingredients, the different services, the different culture.
In Asia, especially in Japan, localization is necessary. We can provide the infrastructure and technology, but in order to be successful the localization needs to be done by local people. We need to be patient on how to bring Gizmoz to these markets. It's a challenge, but we have a compelling offering that is unique.
4. By expanding slowly and gradually you might allow copy cats to come up with their own service in the meantime. Especially in China this is happening all the time. Aren't you worried about that?

Of course I am afraid. I have seen it in the past; you definitely have to be aware of that. But we first see ourselves more active in Japan. For entering China at the same time we are too small. Japan is first priority. China is a huge market, everybody wants to go there, but not everybody can.
For a company like us, less is more. Everything you do, do it best. We are not attempting to try too many things at the same time. We study what we can do in Japan and then go there. We want to be successful; we only do it when it is really suitable and well aligned and powerful.
5. Gizmoz is about to introduce a full set of mobile services, providing offerings for businesses and end users. Social networks and UGC platforms are gradually shifting to mobile devices – is mobile 2.0 finally taking off?
For me mobile is just an extension to the web. It is not a separate target to us. People create and consume content on the web, the same is true for a mobile. It just happens on a mobile screen instead of a device that sticks to the table.
Users in Japan and Korea were the first to show this habit. Now, with the iPhone many in the Western world start experiencing what people have been experiencing in Korea. It is just another way to experience what you do on the web.
In the US we are coming out now. We gradually start to introduce web to mobile, but users are able to send their Gizmoz to mobile phones anyway. We intend to bring a WAP application – that's the US market; it's much more complicated and much less advanced.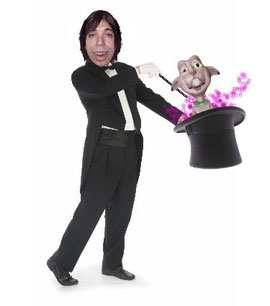 6. What is the business model behind Gizmoz?

You need to differentiate between the US/Europe and Asia. The model we have is basically a revenue model, one where you enable users to buy premium features like accessories, digital goods. Users also have to pay send  their Gizmoz to a mobile phone.
Then, there is the whole branded B2B, where companies or third parties are using our platform to engage users. That can happen either through licensing, a fixed payment or on a revenue share basis. We have partnerships with Coca Cola, Taco Bell, MTV, etc. We monetize the platform with brands that want to build engagement.
In Asia/Japan we see that companies monetize their offering by trying to charge users for content. Japan has enabled people to buy online. In the US it is sort of a CRM. It is very compelling to see companies that provide engaging services and monetize it through different models, but don't sell it directly.
In the USA the model for mobile consumption is changing. Therefore engagement is becoming the key – monetize engagement trough advertisements, where people can get points, recoup them for services and premium services.
7. What can we expect from Gizmoz in the next couple of months?

Choosing the right strategic business goals and executing on those goals is our major task for the coming months.  The Entertainment industry in particular is showing growing interest in Gizmozs offerings and deals with record labels, TV networks and movie studios are currently in the pipeline.