Country Focus: China – Wherefun.com
March 3rd 2008
According to the World Tourism Organization, China is projected to have 100 million native travellers by 2020, making it the number one supplier of outbound tourists. Already, 40.95 million Chinese are leaving their country each year to explore foreign holiday destinations. Regarding the domestic tourism market, the China National Tourism Administration has even more superlatives to offer: In 2007 an astounding 1.610 billion Chinese traveled to visit either family, or famous sites in the Middle Kingdom.

Serial entrepreneur John Ho estimates that around 80% of all Chinese outbound tourists, and a rapidly increasing number of domestic travellers, will carry a digital camera with them on their trips. At the same time he believes  these travellers will want to share the pictures taken along their journeys with friends and families online in order to partake in China's progress to tourism super power.

Johns latest project www.wherefun.com - a geotagging enabled photo trip community - aims to provide exactly this service. You set your camera's clock to the time on an external GPS tracker and it matches up the timestamps on the photos (EXIF data) to its log of the exact location and time of where your pictures were taken. After your trip you first upload the data from the tracker followed by your pictures. Wherefun will then combine both sets of information and visualize your trip based on Google maps. 
Several international startups such as http://www.everytrail.com/, http://www.wayfaring.com/, http://www.flagr.com/ or Google owned Panoramio have similar functionalities in place. Also photo-sharing giants Flickr (Places) or Picasa have recently added geotagged photo compatibility to their systems. Wherefun, however is the first and currently only site available in Chinese (as well as English).

Concerning hardware, numerous external GPS tracking devices are currently already on the market as well as increasingly more mobile phones with cameras adding GPS support. Digital cameras with built in GPS support today are still at an early stage but are expected to explode in numbers in 2009. Until then John is planning to offer Wherefun's own GPS hardware trackers at a price lower that RMB 350 (approx. EUR 30) that run on conventional batteries.

With many Chinese increasingly recording their travels on Wherefun, this could help build valuable geobase information on Chinese travel behaviour e.g. for outbound tour operators and travel agencies.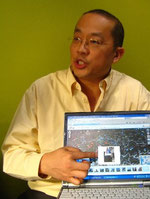 About John Ho

John is a Chinese IT Executive with 20+ years experience in operation, financing, sales and marketing of software/hardware system integration. He held positions as the Senior VP for AsiaInfo Technologies (NASDAQ: ASIA) and participated in one of the most successful IPOs on NASDAQ in the year 2000. As the core member and System architect at AsiaInfo, John designed, implemented and maintained the nationwide Internet network infrastructure for China Telecom, China Mobile, China Unicom and CNC. Other positions held were COO for InterGrafx - a mobile 3D embedded software company and CEO for wherefun.com – a GPS multimedia/online map company. Prior to his board experience in China, John spent 10+ years in Texas as a computer consultant advising Fortune 500 companies with their computer operations and software and hardware implementation. His area of expertise covers telecom, online banking, airline reservation systems, digital media, Internet, mobile and Web 2.0. John received his EMBA from UCLA and BS in Computer Science from the University of Texas.