Korea: YouTube.com and YouTube.co.kr will be completely different
March 31st 2008 
YouTube, the world's largest Internet site for sharing video clips and other user created content (UCC), is aiming to expand its market share in non-English speaking countries by further adapting the already existing local YouTube versions. A Korean version with localized features has been up since January 23rd this year.
"We don't comment on specific future plans, but I can tell you that we are currently focused on building out our product and service in the countries in which YouTube is currently available. We want to do more than simply translate the service and features into the native languages, we also want to contextualize the features for each individual market," a YouTube spokesperson told us.
As the Korean video-sharing market is already crammed full of locally grown sites, it will be a tough mission for YouTube to eat into the market share of dominating rivals. Many other global dominating websites have failed to establish themselves successfully in the Korean market as users favor local grown sites.
But YouTube seems to be quite optimistic about the development of the Korean service: "YouTube has broken down boundaries between different cultures and countries, as it will do for Korea as well. Ultimately YouTube is different from the local sites due to the vast size of its global content (ten hours worth of video is uploaded every minute to YouTube) and its role as a global platform for all local users, including those in Korea, to reach and communicate with the audience across the globe."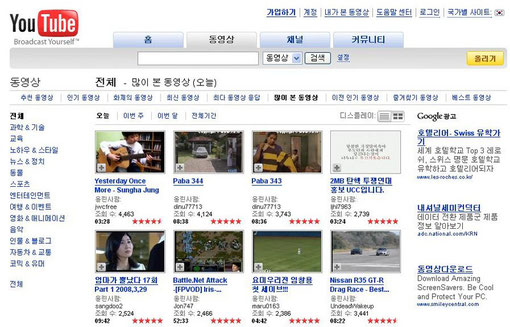 YouTube also told us that Korea is a vital part of its global mission. Korea has active local user communities, great original content and great partnerships. Korea also has a strong IT infrastructure and a high speed Internet infrastructure in place. In addition, a lot of Korean content appeals to people all across the globe. YouTube strongly believes that a localized YouTube site is necessary to support such a user base and promote creativity.
YouTube's Korean version website soared after being released as many users checked the site out, but the number fell back to the normal level soon after, which is around one tenth of the visitors the local leader Pandora TV attracts. At a press conference on March 11th Steven Chen, Chief Technology Officer and co-founder of YouTube, rejected criticism and stated, that the launch of the only-translated version was initially just the first step and there are ongoing corrections to make the site tailored to the local market - "YouTube.com and YouTube.co.kr will be completely different."
To push the build-up of local content YouTube has announced partnerships with leaders in the industry such as CJ Media, Mgoon, SM Entertainment etc. "These partnerships will help to provide a diverse range of content, which is both entertaining and relevant to Korean people. And we are always looking to work with more partners both large and small. Through partnerships with companies and organizations we strive to provide quality content that is of interest to Korean users (such as entertainment and sports) and that showcase Korean culture to YouTube users in the rest of the world."
Although YouTube is fully committed to the Korean market it's still up in the air whether they can gain ground and pose a threat to Korean giant Pandora TV. However, the YouTube representative in Korea assured that the game has just started...