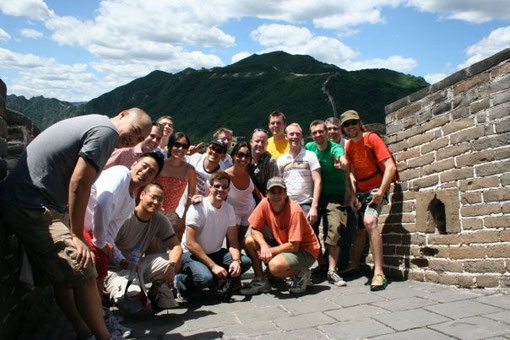 Day two into the China leg of our trip, we spent the day sightseeing. We were blessed with amazing weather, a refreshing breeze and clear blue skies, which everyone tells me is incredible for Beijing. Our sightseeing group of seventeen played "half baked" on the two hour ride to the lush green mountainside. Half baked is a game where two people individually have to say the first word that comes to mind. Then a third person has to combine those two words to come up with a half-baked startup. Today's half-baked winner was ElephantAnt.com - an online dating site that matches small men with large women. Nice one, Dave!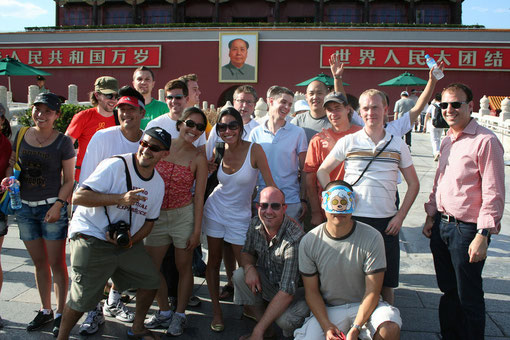 The geeks stormed the steps up the Great Wall like champs and took the gondola back down. There were hardly any tourists at the part of the wall we visited, though there were plenty of vendors - oftentimes popping out of nowhere with offers of Wrigleys gum and cold water and beer.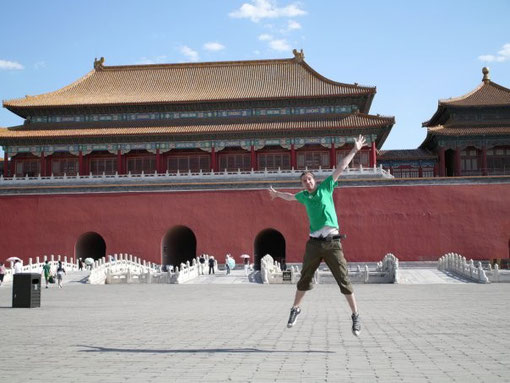 Big thanks to Jenny Bai, creator of The Red Connect for hooking us up at the very posh Westin Beijing Chaoyang, and big love to George Godula of Web2Asia for being the master tour guide and tech event organizer.
Tonight we were attending Startup2Startup in a Chinese banquet dinner setting, sponsored by Blue Run Ventures. Thanks guys! Startup2Startup is a networking event where entrepreneurs are given the opportunity to pitch their startup to potential investors and get feedback from a panel of investing experts. Dave McClure of the Founders Fund, Joyce Kim of Soompi, and Jui Tan of BlueRun Ventures provided tips to three entrepreneurs who each gave pitches lasting thirty seconds, two minutes, and five minutes.
Before the pitching commenced, Dave gave a lively, no-holds-barred presentation that emphasized how entrepreneurs should pitch the problem, not the solution. Check out Dave's must-see presentation below.
While Dave was talking about erogenous zones and other NSFW topics, one member of the Geeks on a Plane Tour, Mike Su of Break Media, actually got picked up by the Chinese authorities in Beijing on suspicion of swine flu, only to be stuck in quarantine for five days before getting cleared and released. The result is a set of some pretty amusing and informative posts about what it's like to experience Chinese quarantine. Mark Hendrickson's TechCrunch Post especially liked his second-to-last piece, Quarantine 2.0, where Mike reflects on how social media helped make his time in quarantine bearable.
By the way, even the Los Angeles Times published a report on his detention!